Paranoia Movie Review
There's More to Paranoia Than Just Liam Hemsworth Looking Dead Sexy
Liam Hemsworth takes his steely blue eyes to the cutthroat world of corporate America in thriller Paranoia, a film that you might appreciate even if you're not a fan of incredibly hot guys. Hemsworth stars as Adam Cassidy, a driven junior employee at a major cell phone company in Manhattan. Though obviously talented (and supersexy), Adam botches the pitch of his life, and talking back to boss Nick Wyatt (Gary Oldman) gets him booted from the premises. But wait! Turns out Wyatt wants him for a special job; he wants Adam to become a mole in the competitor's company. I know this all sounds very cliché, but the story is cleverly constructed, and Hemsworth is actually impressive as a leading man. Allow me to explain.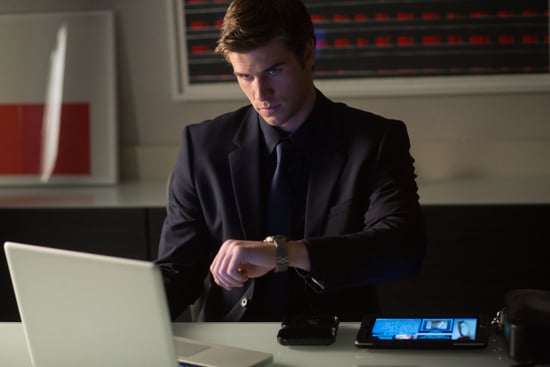 Once he's infiltrated Jock Goddard's (Harrison Ford) sprawling cell phone empire, he clumsily begins his search for their next prototype. His first discovery is that he's already had a recent one-night-stand with the company's head of marketing (Amber Heard), which only helps him gain access. He cozies up to Jock, exploiting their common personal tragedies to forge an emotional bond. Hemsworth is great at walking that line between pretending to be the caring employee, and seeming like an actual caring employee. It's hard to know when, if ever, his moral fiber deteriorates. Sure, he's committing corporate espionage for a sizable chunk of money, but his dad (Richard Dreyfuss) is dying and needs surgery! Again, cliché, but again, it's kind of well done. Find out more about what I thought of Paranoia when you read more.
While Adam is mentally ping-ponging back and forth between whether he should be spying or not, there's a variety of questionable characters around. Obviously Nick is a scumbag, but then you begin to question whether Jock is really all that upstanding. Even Nick's right-hand woman (Embeth Davidtz) begins to look suspicious, despite her kind eyes. Paranoia provides the best kind of doubt, the kind that keeps you on your toes and makes you feel just as trapped as its hero.
Hemsworth isn't the only one heating up the screen, though he does (on many occasions) take his shirt off. There's shirtless Hemsworth in the pool, shirtless Hemsworth by the fire, in bed — even making pancakes. But there's also Lucas Till as Adam's "nerdy virgin" friend (ha!) and Josh Holloway has a smaller part as an FBI agent creeping around the companies. Julian McMahon (Nip/Tuck) also stars as an intimidating body guard with great teeth, and I'll say it: Harrison Ford is still pretty debonair. It's a feast for the eyes.
As fantastic as Hemsworth is to look at, I was also really impressed by his ability to hold his own with Ford and Oldman. He's captivating, and Paranoia feels like a good old-fashioned thriller in the vein of The Firm. It's not without some predictable moments and a little bit of canned dialogue, but at least it's fun.