Parenthood Season 5 Spoilers
Parenthood: What You Can Expect For Each Character This Season
Parenthood returns tonight with its season five premiere, but if you want a little preview before the episode airs, we got the scoop back at the show's Summer TCA panel. Executive producer Jason Katims joined much of the cast, including Dax Shepard, Lauren Graham, Erika Christensen, Mae Whitman, and Peter Krause, to talk about season five — and where we'll find each character when the show comes back this week.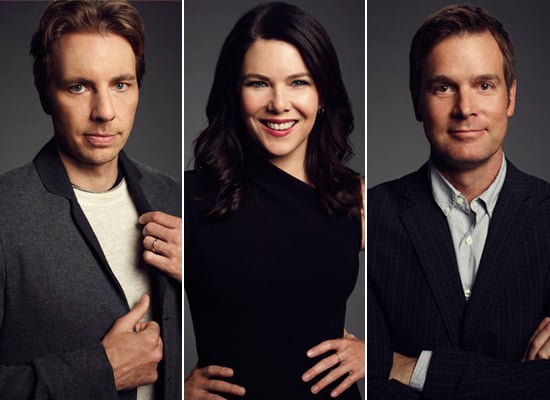 Sarah
Sarah (Graham), it seems, is growing up. "There's been a lot of progress," Graham said. "I have an apartment. I have a bed," she added, joking about the fact that Sarah has been sleeping on a pullout couch since the beginning of the series. As for her relationship status, Katims hinted that the love triangle of Sarah/Mark/Hank will probably get less focus: "This is a year of her wanting to figure out her life and figure out what her next step is in life and not be focused solely on a romantic relationship." However, in the season five promo we got to see, Sarah opens the door to Hank (Ray Romano).
Amber
Could Amber (Whitman) be getting married? In the promo for next season, we see Sarah telling Amber, "Let's plan your wedding," and Whitman wouldn't say for sure if we'll hear wedding bells, but said, "It's a huge choice. I'm interested to see how they tackle that." Shepard was very encouraging about a possible union between Amber and Ryan (Matt Lauria), quipping, "Abs like that come along once in a lifetime. You gotta marry those abs."
Kristina and Adam
Hopefully Adam (Krause) and Kristina (Monica Potter) will get to breathe after Kristina's cancer-free diagnosis, but Katims talked about how story lines continue on this show, so it sounds like we'll see the emotional aftermath in a realistic way. "With Adam and Kristina, what they've just been through is going to inform what their next season is."
Joel and Julia
"You might want to be a little concerned about Joel and Julia," Katims warned after a reporter asked what the new cast additions of David Denman and Sonya Walger mean for those characters (played by Christensen and Sam Jaeger). Beyond marital temptation, "Julia is still unemployed and not happy about it," Christensen said. As for Joel, Jaeger said that Joel's construction opportunities will mean that there's a role reversal in their marriage, since Joel has been a stay-at-home dad for so long.
Crosby and Jasmine
When we last saw Crosby (Shepard) and Jasmine (Joy Bryant), she had just found out that she was pregnant, but when season five returns, we'll see them with a baby. "There is a time jump," Katims confirmed, about seven or eight months after the point that we last saw the characters. On a cute note, Shepard talked about being excited to be playing a father because he's a new dad — even if Crosby's not. "It's the opposite of what you might imagine, because now I love babies. I'm supposed to be frustrated with the crying baby in the scene and I'm like, 'Oh my God, look at this little stinker! My little girl was just like this a month ago!'" Bryant even said that Shepard has been helping her with her baby-holding skills.