Parks and Rec Bloopers Season 5
Parks and Rec Bloopers, '90s Cartoon Fashionistas, and More of What Made Us LOL This Week
Who knew Lisa Simpson and Angelica Pickles were such chic characters? We've been cracking up over one artist's reimagining of the '90s cartoon characters at Fashion Week, a genius mix of nostalgia and style. Meanwhile, the James Franco roast on Comedy Central brought out some big laughs, and the Parks and Recreation gag reel for season five had us busting up along with the cast. See all that and more with the week's funniest finds from across the Internet!
'90s Cartoons Head to Fashion Week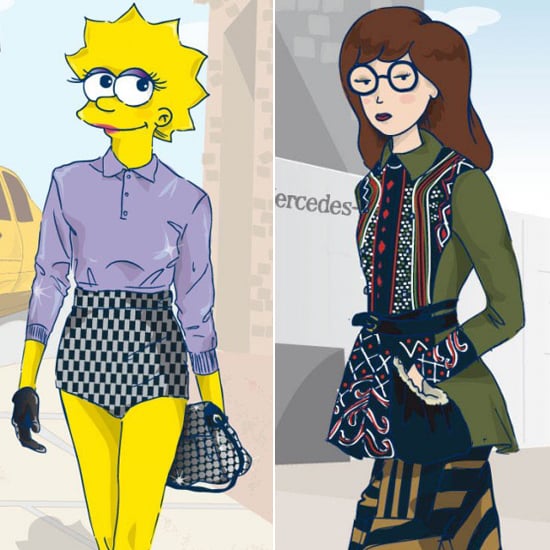 What if Daria, Lisa Simpson, and Angelica Pickles grew up and got into the fashion scene? Swagger New York and designer Michele Moricci collaborated on a series of pictures that imagine some of the most iconic '90s cartoon characters stepping out for Fashion Week.
Parks and Recreation Bloopers
For season five, the Parks and Recreation team put together 22 minutes of awesome bloopers. Part one (above) features a slap-gone-wrong from Amy Poehler, an awkward deadpan from Rashida Jones, and Aubrey Plaza breaking character. (Parts two, three, four, and five are equally hilarious.)
Keep reading for more funny videos.
An Apocalyptic Prank
For one of LG's commercials, the company set up their 84-inch TV on a wall with a scene of the city in the background, making it look like a window. As job candidates came into the office to interview, the screen's picture slowly morphed into an awful, apocalyptic scene — and, naturally, they all freaked out.
A Spot-On Kourtney K. Impression
During the Comedy Central roast of James Franco, comedian Aziz Ansari had the live audience — and his fellow roasters — laughing out loud with his jokes about James, Jeff Ross, and the rest of the group.
"The Fox" Video
Ylvis, a Norwegian duo, released their music video for a song called "The Fox," and with a mix of animal sounds, crazy costumes, and a stick-in-your-head tune, it's the random viral video you just have to share with your friends.
The Friendly Lion
In one incredible combination of Breaking Bad and the Broadway musical Joseph and the Amazing Technicolor Dreamcoat, we get "Walter White and the Amazing Blue Crystal Meth." Set aside a full hour to watch this one — it covers all five seasons of the show.