Parks and Recreation Season Four Finale
The Parks and Recreation Cast Reveals the Finale's Alternate Endings and Talk Twilight
Last night, a handful of the Parks and Recreation cast and crew joined forces for their PaleyFest panel in Beverly Hills. Amy Poehler (Leslie), Chris Pratt (Andy), Retta (Donna), and Jim O'Heir (Jerry) were on hand to talk about the upcoming finale and some of the new guest stars ahead, including Brad Leland (Buddy Garrity from Friday Night Lights) as one of Leslie's election opponents, Fester Trimm. They reflected on Poehler's turn in the director's chair this season and why they chose to film two totally different versions of the finale — one in which Leslie wins the election and one in which she loses. The cast also carried out cardboard cutouts of their costars not in attendance, prompting their executive producer Michael Schur to crack: "By the way, this is exactly what it's like to talk to Aubrey Plaza." Check out some of the highlights from the panel: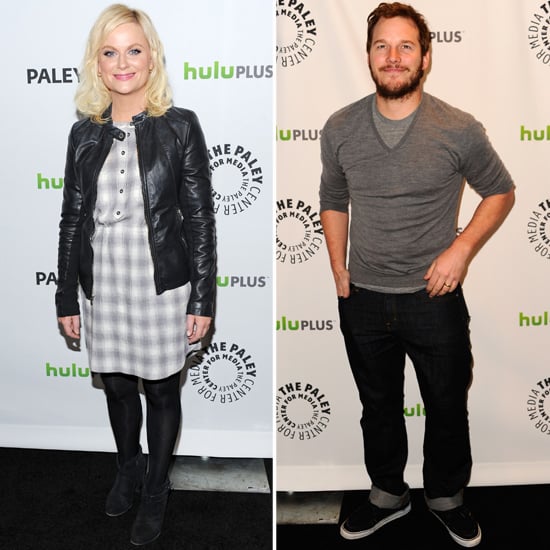 Poehler on Ben and Leslie's relationship: "I think Ben is the love of Leslie's life, for sure. It was really great this season to get to play really big comedic moments with Adam [Scott], and really small lovely moments as well."
Pratt on his wife

Anna Faris

appearing on the show: "If they give us another season, I think it's gonna happen. If we get one more season, my doggone wife is gonna come and play and be hilarious."
Schur on Tom and Anne's relationship: "We thought about this as early as season two, that they would make a terrible mistake and like, sleep together or something, and it was always in the back of our heads. . . and then, in the middle of the year, we were looking at our landscape and we have a lot of soulmate-y relationships. Leslie and Ben, Andy and April. There's a lot of true love. The point is that we were kind of like, we should just do a comedy relationship. We didn't do it until we made sure that there was a reason — it's very clear why Tom would be interested in Anne. I would say it's somewhat less clear why Anne would be interested in Tom."
For more on the outcome of the election and Retta's love for the Twilight saga, just read more
Schur on whether Leslie will win the election: "You'll find out in the finale. We shot two endings, partly to hedge our bets in case we changed our minds, and partly to throw snoopy snoopers off our scent."
Poehler on performing Leslie's acceptance and concession speeches: "It was really touching and moving to do both the acceptance and concession speeches. You know, you actually find that acceptance and concession speeches about the same until the end. They thank everybody for their hard work, they realize they can't do it alone, they talk about their future, and they say congratulations to the other guy. Being on stage and talking to the cast, who are all my friends, and having to tell them thank you for this election year, and I could never do it without you, and we would never be here without the hard work from everybody — real waterworks over here from Poehler."
Poehler on the show's sentimental take on small towns: "I think there's something very romantic about people deciding to be in love with your own small town. There's a lot of arc in art and literature about moving to the big city, and there's something really sweet about moving to a small town."
Retta on her personal attachment to the Twilight episode: "The third [book in the series] is good sex! It was bananas. I was beside myself!"
Poehler on directing: "It was really a huge opportunity for me. I'm really grateful for it and it was like a dream come true, like every moment on this show is for me, to be able to work with these actors in a different way. We had a really big show, it was a lot of cameras and extras, and when Louis C.K. was on the show I kind of asked him his advice on how do you direct yourself. And I don't remember what he said. So. . . ."
Poehler on whether she'll be a part of Arrested Development's return: "I'll get coffee for them, I'll do whatever they want me to do. I know Will [Arnett], my husband, is really excited about it."