Partners TV Show TCA Panel
Partners: Why Sophia Bush and Brandon Routh Are Excited to Be Funny
CBS comedy Partners depicts the friendship between a gay man and a straight man who are architects and best friends, and like a few other Fall TV series, it's based on the lives of its creators. Showrunners Max Mutchnick and David Kohan came to the network TCA to talk about how their friendship inspired the show, and how much of themselves are in the characters. The actors playing the small-screen versions of them, Michael Urie and David Krumholtz, were also on hand to chat, along with their onscreen love interests, Brandon Routh and Sophia Bush, who both talked about how eager they were to do comedy.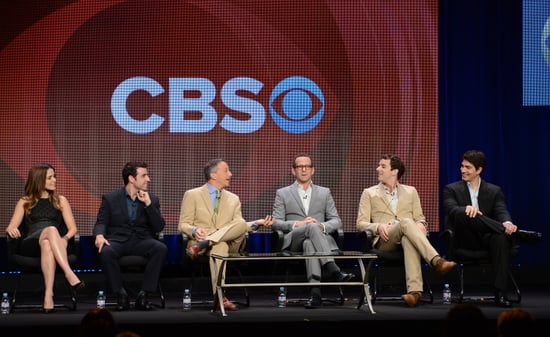 Routh, who plays

Wyatt

, the boyfriend of Urie's character Louis, talked about starring in his first sitcom, and said that he had been pushing to do comedy since he started acting. When a reporter said that his character seemed like the "dumb blond" of the show, Kohan corrected the reporter by saying that Wyatt's defining characteristic "[isn't] dumb — it's guileless" and that Wyatt is from a different background than Louis, but, "he's no dummy." Routh agreed, saying, "He's so trusting . . . When you're trusting, you don't think anyone has bad intentions."
Bush stars as the girlfriend of Krumholtz's character Charlie, and like Routh, she ascertained that she'd been wanting to try comedy, but that One Tree Hill derailed her a little. "I got on the show, and it just . . . never ended!" She joked that nine years in Hollywood "is like 100 years," and she seemed excited to be trying out her comedy chops. "I've been gunning for this for a very long time."
Mutchnick and Kohan met in high school at age 14, and after becoming writing partners, they cultivated the friendship that's the basis for the relationship of Louis and Charlie. Though Mutchnick joked that he was "absolutely" as self-obsessed as Louis is, the executive producers also stressed that the characters aren't exactly them, but it's the dynamic between them that's the foundation for the show. "The dynamic is almost vaudevillian in its lunacy," added Krumholtz, while his costar Urie said that it helps to have them around on set because "there's so much to draw on."