Patrick Wilson Talks "A Gifted Man" at the Summer TCA
The Gifted Man Cast Talks Science, Faith, and Patrick Wilson's Own Gifts
This Fall, Patrick Wilson will be the face of one of CBS's new dramas, A Gifted Man. He plays a hotshot neurosurgeon who starts to rethink his arrogance when he begins seeing visions of his deceased ex-wife, played by Jennifer Ehle. Wilson and Ehle were both on hand to promote their show at the Summer TCA this week, talking about Wilson's musical talents and beyond. Here are highlights: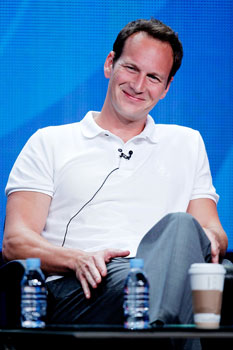 Producer Neal Baer was quick to point out that Ehle's character, Anna, isn't definitely a ghost, referring to her as "a ghost or whatever she is," and later quipping, "She's no angel."
On the show, Anna ran a clinic for the uninsured during her life, which will play a big role on the show. As Wilson's character, Mike, works in a fancy shmancy practice, the juxtaposition between the two environments will be one at the forefront of the series and a contrasting force between the two models of medicine.
Another big theme of the show will be the contrast between Mike being a "man of science" vs. a "man of faith." Wilson said that he loves playing a character who refuses to believe in ghosts or magic, and thus thinks he's going insane when he starts seeing Anna. He added "I want to play it as weird as it would be" and "that constant struggle will continue to be explored."
Wilson said he's excited about the show's Friday night time slot because it provides some "room to play" instead of worrying about completing against other shows. He also cited the show's NY location as one of the big draws, since he gets to go home each night and spend time with his family.
Wilson, who has showed his musical talents on stage and in movies like The Phantom of the Opera gets to show off his piano-playing skills in the pilot (which was originally not in the script). Baer joked that he'd love to show off more of Wilson's musical background, saying, "You all know he can sing and dance, so we'll have to give him some neurological case where a person can't stop dancing."