Perfect Couples 2011 Winter TCA Quotes and Pics Featuring Olivia Munn and Hayes MacArthur
Perfect Couples Tells the TCA "It's Not a Beer Commercial"
The relationship comedy is a current trend in midseason TV (see also: Traffic Light and Happy Endings), and the latest one to make its case for superiority is NBC's Perfect Couples. The producers and cast of the show, including Mary Elizabeth Ellis, Kyle Bornheimer, Olivia Munn, and Hayes MacArthur visited the Winter TCA to talk about what sets their show apart, and how much the actors can relate to their characters.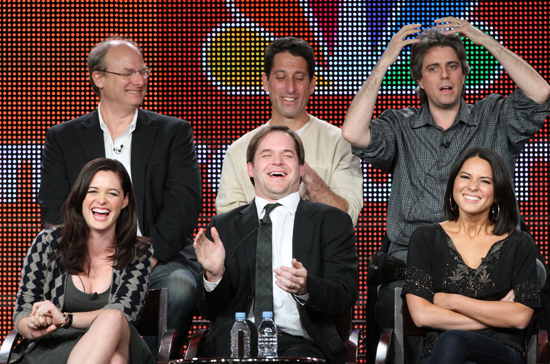 So, how is Perfect Couples different from other relationship shows? Exec producer Scott Silveri says that this show is about "who these characters are and how they interact," and hopes that it "feels very honest." Producer Jon Pollack feels that it's just a good time for a show like this because "gender roles have never been more confused," and they see Perfect Couples as an opportunity to subvert gender stereotypes. They stressed an effort to be modern and not be stereotypical, saying that "it's not a beer commercial."
Kyle Bornheimer and Christine Woods play the most "normal" couple, Mike and Julia, and the married Bornheimer joked that "the show is awful for my marriage, wonderful for my career," because he'll bring home bits from the show that start arguments. Woods likes the modern portrayal of the couple, people who are happy because "you're with your best friend that you want to have sex with."
David Walton and Mary Elizabeth Ellis play the couple who most want to kill each other, Vance and Amy, and Ellis says it's an actor's dream. Ellis said, "We're the part of you that wishes you could scream [at your significant other] and then make out with them." Walton also enjoys playing Rex, saying that it's "fun to play characters who have no filter."
The third pair of actors, Hayes MacArthur and Olivia Munn, play Rex and Lee, who think they're the perfect couple of the group. MacArthur said he was drawn to the show because of Rex, who may be an "ex-jock party guy," but he's excited about being in a relationship. Though Munn said that MacArthur is nothing like Rex, she said that the characters should be very familiar to everyone: "You either watch the show and you know someone like that, or you are that person."