The Perks of Being a Wallflower Movie Review
The Perks of Being a Wallflower: Heartbreaking Yet Heartwarming
The Perks of Being a Wallflower succeeds on a multitude of levels: it's a coming-of-age story that accurately reflects the agony and ecstasy of getting older, it's a showcase of some fantastic young talent, and it's a satisfying big-screen translation of a beloved book. Directed and adapted by the novel's author, Stephen Chbosky, the movie is the story of Charlie (Logan Lerman), a teen who begins high school with trepidation and a troubling past. When he encounters Sam (Emma Watson) and Patrick (Ezra Miller), seniors and stepsiblings, they welcome him into their group of friends, and Charlie begins a journey of acceptance, friendship, and first love. It's a ride that's both joyful and painful.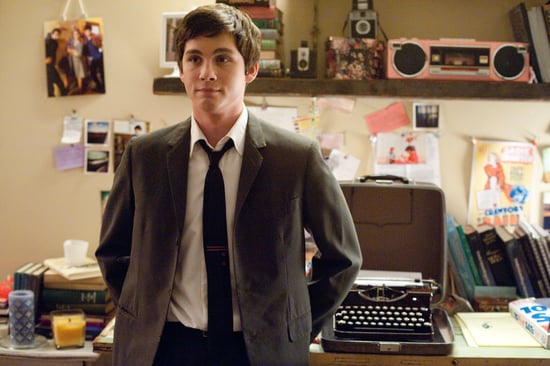 The book on which the movie is based has a fairly bare-bones structure (it's a series of letters written by Charlie to an unknown recipient), but Chbosky colors in the details and visuals in an impressive, fitting way. The ensemble cast members (including Paul Rudd, Nina Dobrev, and Mae Whitman) commit themselves fully to their roles for performances that are great for different reasons, ranging from commanding to understated. To find out what else I liked about The Perks of Being a Wallflower, keep reading.
There couldn't have been a better choice for the role of Charlie than Logan Lerman. Soft-spoken and wide-eyed, Lerman turns in a touching performance. Unlike other narrators who merely serve as the lens to other, more interesting characters, Charlie is a dynamic character in his own right. He's already overcome traumatic experiences in his young life, and the friendships he forges with Sam and the others are his own form of therapy and healing, making Charlie sympathetic as well as relatable. You understand him, and you also want to help him.
His costars also rise to the occasion of playing teens with more issues than who they're going to ask to prom. As Sam, Emma Watson is a strong young woman, but she's still fighting off insecurities and struggling with herself. Watson is luminous, and she appears to grow up and away from Hermione Granger in front of your eyes. Still, she's almost too refined for tough-girl Sam, and her American accent is distracting at times. Ezra Miller, on the other hand, is outrageously good as Patrick. Though Patrick is gay, he doesn't struggle with his identity the way the other characters do; in fact, the only thing he seems to struggle with is why he's not totally accepted, or why the boy he loves needs to keep their relationship a secret. Next to Lerman, Miller has the most intense scenes, and he handles them expertly — yet he's also the ham of the movie, effortlessly going between dark and light to crack you up.
The '90s setting is well done, making it fun to be immersed in a time where mixtapes and fanzines ruled and no one texted or relied on Facebook. Still, despite the generational differences, the story is relatable at its core. Though not everyone has the exact issues of the characters — like depression, abuse, and struggling with sexuality — the themes of Perks are pretty universal, like the desire to fit in and falling in love.
The Perks of Being a Wallflower is the kind of adaptation every fan of a book-turned-movie hopes for. It comes to life in a vivid way, but it doesn't force a comparison of whether the book is better than the film, or vice versa; they simply complement each other beautifully.