Person of Interest Pilot Review and Pictures
Pilot Scoop: Person Of Interest
Summer may have barely begun, but you'd better believe that we're already making preparations for Fall — more specifically, arranging our TV lineups. There are a lot of new shows to check out, but luckily we're here to help you sift through the myriad of new programs to figure out which ones are up your alley. Today, I'm giving you the lowdown on Person of Interest, a new drama starring Lost alum Michael Emerson.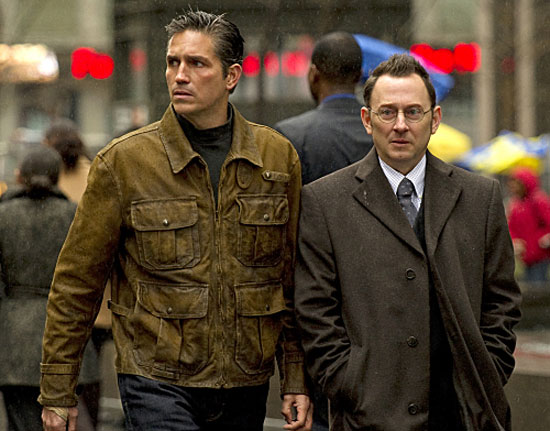 What it's about: The story, which looks like it will be a procedural series, centers on the relationship between Reese and Finch, a pair of men with mysterious pasts who team up to try to prevent crimes before they happen. Finch (Emerson) has developed a system that provides the social security numbers of Manhattan residents who are about to involved in a dangerous crime. Reese (Jim Cavaziel) is a military man-turned-bum whose brain and brawn help Finch protect the innocent.
Where it works: Emerson is excellent as always, and his relationship with broody Cavaziel makes for a fun, geeky, odd couple of sorts. Though both guys are loners, the few hints we get at their past lives and loved ones could make for an interesting undercurrent to the weekly cases.
Where it doesn't: The pilot lays on some of the themes pretty thick: the dialogue is painful at times and some of the heavier action scenes feel forced in for dramatic effect. I found myself wanting more character development and sci-fi and less run-of-the-mill sleuthing.
You might like this show if: You loved Minority Report, since the premise is pretty similar.
When it's on: Thursdays at 9 p.m. on CBS
Watch a preview when you
.
Photo courtesy of CBS