Peter Dinklage Season Two Game of Thrones Quotes
Peter Dinklage Says Game of Thrones Is "Not Done Killing Off People"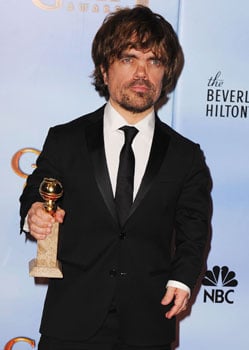 Peter Dinklage took home yet another accolade, winning the best actor in a drama TV series Golden Globe for his work in Game of Thrones this evening. During his acceptance speech Peter revealed it's the first night he and his wife have left their newborn baby girl at home with a babysitter, so his first press room question was about checking in on the little one. From there, he gushed about the GOT writing staff and said there are some more surprises — and deaths — coming our way in season two. Check it out:
On checking in with the babysitter: Yes. Texting is everything. She's a baby. Crying never killed anyone. Well, maybe that's not true.
On what makes his role so important: The fellow cast and crew make it so much fun to go to work. Even the mountains of Northern Ireland would get old. The cast and crew is incredible. The character is a lot of fun.
On this proving action fantasy series can work: Yeah, it depends on the writing. We have a handful of the greatest writers in the business. They have such incredible source material. That is everything to me. Doesn't really matter about the genre, just the great writing. Hopefully it will give that genre a little more respect.
On season two: Just like the end of the first season, you never know what's going to happen. It's a really smart narrative. I'm sad that was so surprising, writing has gotten so formulaic. You have to push the envelope and challenge people's expectations. That adds to the addiction of the show. You never know what's around the corner. We are not done killing off people and it's amazing the people they choose.