Photos of the Jersey Shore Cast Dressed as Robert Pattinson and Kristen Stewart in Eclipse
The Jersey Shore Cast Spoofs Rob, Kristen, and Eclipse!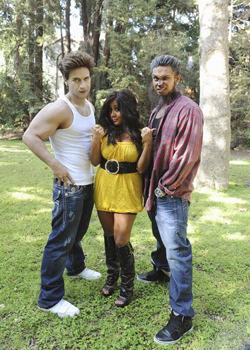 Uh-oh. Do Rob and Kristen have some competition? On Jimmy Kimmel's Eclipse special tonight, the cast of the Jersey Shore is out to prove they have what it takes to be Twilight stars. Snooki steps in as Bella, Pauly D as Jacob, and who better to portray heartthrob Edward than Mike "The Situation"? You'll barely recognize the guy in his pale makeup, but of course, he tries to improve on the character with a trip to the tanning bed. We'll have to wait till tonight to see the video, but check out these funny pics.
More photos when you read more.