Photos and Quotes of Drew Barrymore From Golden Globes Press Room 2010-01-17 19:11:07
Drew Has Belated Thanks For Jessica and Justin in Globes Press Room
Drew Barrymore brought her sparkle from the red carpet to the stage to the press room after winning at tonight's Golden Globes. She took home a statue for her work in Grey Gardens, which was also named best TV movie/miniseries. Drew was incredibly humble answering questions from the press and snuck in a few thank yous for her costar Jessica Lange and boyfriend Justin Long that she missed during her acceptance speech.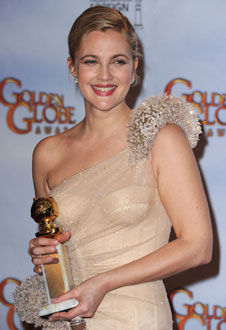 On preparing for the night: "I screwed up so much in my speech, and I'm just one of those people that no matter what good is happening I'm always going to have that parent inside of me that's disciplining myself, so of course I'm thinking of everything I didn't do in my speech. Of course, Jessica Lange, who is my copilot and partner, I didn't thank my date. There's just so many things I didn't get to say. So the thing I didn't do when I was getting ready was prepare the speech. Mo'Nique said it best, you just don't want to assume you would ever win something."
What she would have said to Jessica: "I wish I could split this award in half. There's a wonderful line from a song from the movie, 'all alone I'm only a half, like a joke without any laugh,' and that's how I feel about Jessica Lange. I wish I could have said that tonight because that would be my eloquent speech that I did not grasp this evening. I thought I was going to pass out on stage of humility and gratitude."
What she would have said to Justin: "I have a great date. Thank you, Justin. He's an awesome date and he's been making me laugh all night. I'm so lucky. All that I know is that I just wanted to have something like this happen in my life and to really give it back to the people who have been so nice to me growing up or that cheer me on. I'm just so lucky to be in their light and in their love. That's what this means to me. I want so badly to not let them down, and to inspire them back."