Photos and Video From New ABC Show The Whole Truth, Starring Maura Tierney
Pilot Scoop: The Whole Truth
I've been breaking down all of the new Fall TV shows so that you know what to expect, but we've finally reached the end of the road: my last pilot scoop! Get the 411 on ABC's The Whole Truth — then don't forget to print out my calendar to save the date.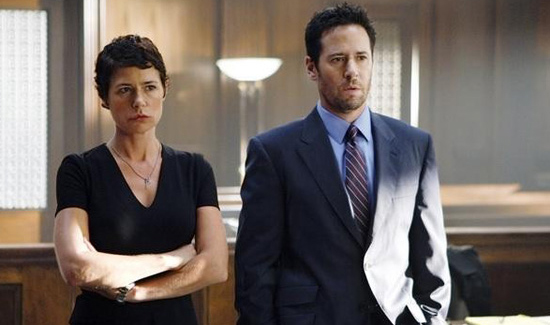 What it's about: Maura Tierney stars as Kathryn Peale, a ruthless prosecutor and the right hand of the DA. At the other end of the courtroom sits Jimmy Brogan (Rob Morrow), a defense attorney and old friend of Kathryn's who revels in going toe-to-toe with her on high-profile cases. We see both sides of the trial through their perspectives until ultimately a verdict is reached. But is the outcome the correct one? The truth is revealed in the final moments.
Where it works: The writers have cleverly thought out and detailed each plot point. As the case unravels with new twists and turns, everything intersects in a way that kept me intrigued and more importantly, seems somewhat plausible.
Where it doesn't: Despite its moments of ingenuity, the pilot often falls back on cheesy lines and stale conventions like black-and-white flashbacks. Both of the lawyers also seem a bit like caricatures — she's the hard-nosed woman who fought her way to the top; he's the member of the boy's club who likes sports.
Am I hooked? The pilot is smart, but as procedural dramas go, I'm not completely wowed.
When is it on? The Whole Truth premieres Wednesday, Sept. 22 at 10 p.m.
Get a look at more photos when you read more.