Photos and Video From New CBS Show The Defenders, Starring Jerry O'Connell and Jim Belushi
Pilot Scoop: The Defenders
We may be celebrating the Emmys this Sunday, but a brand-new crop of Fall TV shows will be here before you know it! To get ready, I've been picking apart the pros and cons of each new series pilot. Today's selection: CBS's The Defenders.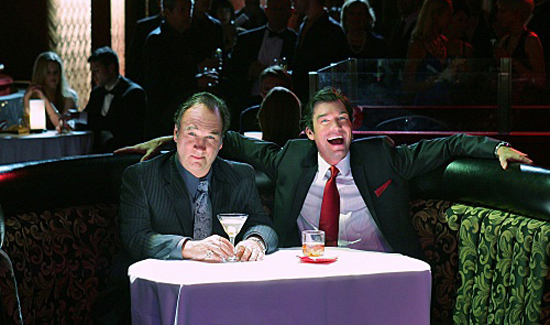 What it's about: Jerry O'Connell and Jim Belushi star as two Vegas defense attorneys with personality to spare. O'Connell is Pete Kaczmarek, a playboy who likes pricey cars and easy women. To Pete, law is just another way to show off, though he's never afraid to put his neck out for a client. His counterpart is Nick Morelli (Belushi), a smartass trying to make peace with his estranged wife. New associate Lisa Tyler (Jurnee Smollett) also joins the firm with a more traditional approach to cases, but unfortunately, the boys don't like to play by the rules.
Where it works: The buddy chemistry between O'Connell and Belushi is promising (Belushi especially shines), and their sharp back-and-forth quips keep the show light. It's kind of refreshing to have a courtroom-based drama that doesn't take itself too seriously.
Where it doesn't: I'm just not invested in the story. The series needs more of a pull than just the flash of Sin City to keep viewers coming back.
Am I hooked? Not yet, but I may get sucked in if I see more character development.
When it's on: The series premieres on Wednesday, Sept. 22, at 10 p.m.
To watch a preview video and see some photos from the series just read more.