Pia Toscano Voted Off American Idol 2011-04-08 07:44:31
Was the Right Contestant Voted Off American Idol?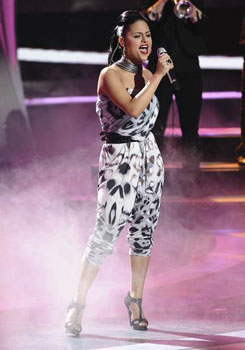 Well, tonight's American Idol results show was a shocker and a half. When the lights were dimmed, Pia Toscano and Jacob Lusk were in the bottom three for the first time, along with Stefano Langone, who had been there before. I admittedly was expecting Stefano to say goodbye, but my jaw dropped when Ryan sent Pia home. Pia was one of the strongest competitors out there, and I thought there was a good chance she would take home the crown. Even the judges looked horrified and said that America got it wrong, which makes me wonder whether or not they regret using the save on Casey. What's your take — did Pia deserve to get voted off?
Photo courtesy of Fox