Picture of Robert Pattinson Twilight Character on The Simpsons' Treehouse of Horror Special
First Look: Edward Cullen Gets Simpson-fied!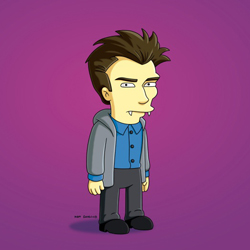 When The Simpsons debuts its special Treehouse of Horror episode "Tweenlight" on Nov. 7, there's going to be a familiar face in Springfield. Introducing Edward Edmund, a mysterious student who just so happens to resemble Robert Pattinson (double bonus: he's voiced by Daniel Radcliffe). Is it any wonder that Lisa develops a crush on the new kid? Get a closer look at the cartoon look-alike when you read more.