Picture of Ryan Seacrest on the Cover of The Hollywood Reporter
Ryan Seacrest Tops Reality TV Power List and Is Poised to Expand His Empire — Are You on Board?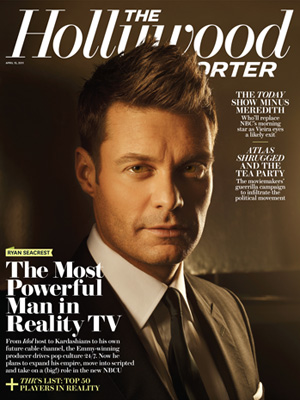 Ryan Seacrest is deemed the most powerful person in the reality TV world on this week's cover of The Hollywood Reporter. He ousted former American Idol costar and good friend Simon Cowell, who held the crown in 2009 and 2010. The rankings are determined by a mixture of innovation and "impact on pop culture" among other factors. Ryan landed the top spot partially due to his hosting gig on AI, but it's his work on other shows, such as his four Kardashian series, and Jamie Oliver's Food Revolution that put him ahead of the pack.
Ryan, who says he works "best inundated with things, when it's like raining information," also revealed plans to expand into branded entertainment, music, movies, and scripted television. As for his own cable network? The idea is apparently "still very active," but unlike Oprah's OWN, Seacrest says, "it will not be branded with my name or my face." In the article, Idol creator Simon Fuller gushes about Ryan saying, "He's the unsung hero of American Idol. Ryan is one person I would not want to lose."
As Ryan is poised to create an even bigger media empire, tell us — are you on board?