Pictures From The Hangover Part II With Bradley Cooper, Zach Galifianakis, and Ed Helms
5 Things We Already Know About The Hangover Part II
Hollywood sequels are usually a crapshoot (um, Transformers 2?), but I'm holding out high hopes for The Hangover Part II. It's one of this year's most anticipated releases, thanks to the smashing success of the original. As a big fan of the first film, I've been keeping my eyes peeled for hints about the followup. What we know for sure: Liam Neeson's in, Bill Clinton will cameo, and this time, the guys travel to Bangkok for Stu's wedding. As far as additional details, we can only rely on the movie's photos. There are two new pics making the rounds today, and I've been studying them carefully to pull together clues. Take a look at the "spoilers" I've discovered!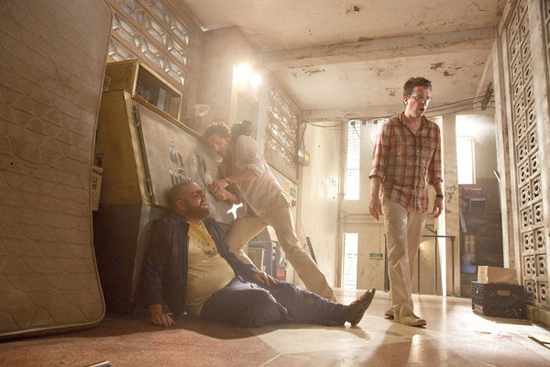 What happens in Thailand, stays in Thailand? OK, it doesn't have the same ring to it as Vegas, but the boys pack their bags for Bangkok — and judging by the photos, they're slumming it a lot more than they were in that fancy Sin City hotel suite.
Zach Galifianakis has a shaved head! Yep, the very scraggly Alan has let go of his wild mane — though his beard still remains intact. I have two theories in regards to the new 'do: 1) he either cut if off due to the sweltering heat or 2) there's some sort of subplot that involves Alan joining a group of Thai monks. I'd almost put my money on the latter.

Check out another new photo from the film (and three more revelations) after the jump.

Stu has a new tattoo. It isn't a bachelor trip without a visit to the tattoo parlor, and it looks like Stu has gotten himself some ink. Look closely, and you'll notice that the group's most conservative member has what appears to be a Mike Tyson-like face tattoo. Is it a shout-out to the boxer and the first film, perhaps? It definitely has me curious.
They've swapped the tiger for a monkey. Who can forget Mike Tyson's pet (and the source of all the boys' trouble) from the first film? Well, they may not have a tiger to contend with this time, but it seems they've still got their hands full with a monkey . . . in a denim jacket?
Doug has gone missing again. Or at least there's no sign of actor Justin Bartha in these two new photos. Last time the guys discovered their buddy Doug on the roof of their hotel. Strangely, there is a mattress in one pic, but no Doug with it. Have they lost him a second time? Several of you said you think Phil, Stu, and Alan are hilarious as a trio sans Doug, and it looks like they'll be getting along without him yet again.
Photos courtesy of Warner Bros