Pilot Review of ABC's My Generation
Pilot Scoop: My Generation
Tomorrow is September 1, which means we're just a couple of weeks away from all the new TV shows I've been telling you about. Today I'm shedding the spotlight on ABC's new drama My Generation.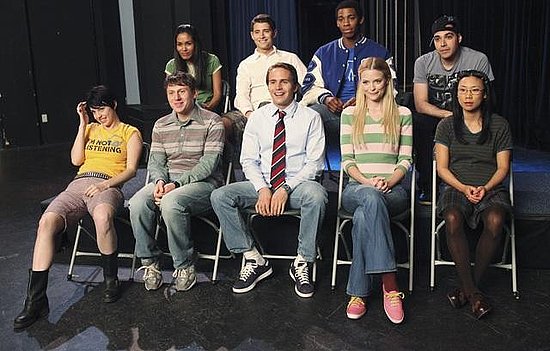 What it's about: A group of high school seniors (including Jaime King and True Blood's Mechad Brooks) participate in a documentary project that shadows them in their senior year as the class of 2000. It's a typically Breakfast Club-esque crew: we've got the cheerleader, the jock, the rich kid, the brain, etc. Ten years later, the camera crew is back to check in on the former adolescents to see how far they've come. The viewer gets an inside peek at the juxtaposition of their past and present lives, and how their connections to each other have changed.
Where it works: Though the mockumentary has been done before with shows like The Office and Modern Family, the new series definitely provides a fresh spin. An ensemble cast keeps you on your toes, and cutting between time periods keeps the episode moving while slowly unfolding the many storylines.
Where it doesn't: Though we've got characters to spare here, I didn't fall in love with any of them — and that's a problem. It's hard to get a viewer attached to everyone, but it's a bad sign that there was no connection with this many opportunities. I was also expecting the show to be a lot lighter and it's actually kind of heavy.
Am I hooked? Let's just say I've got high hopes for this one. Though the pilot didn't wow me, the premise did — and since this is typically the kind of show I love, I'll give it time to lock me in.
When is it on? My Generation premieres on Thursday, September 23 at 8 p.m.
To see more photos and a video promo, just read more.