Pilot Review of NBC Chase
Pilot Scoop: Chase
My friends, we're entering the homestretch with just a few more Fall TV previews left before the shows start arriving! Plan accordingly with my printable premiere calendar, then read on to get the goods on NBC drama Chase.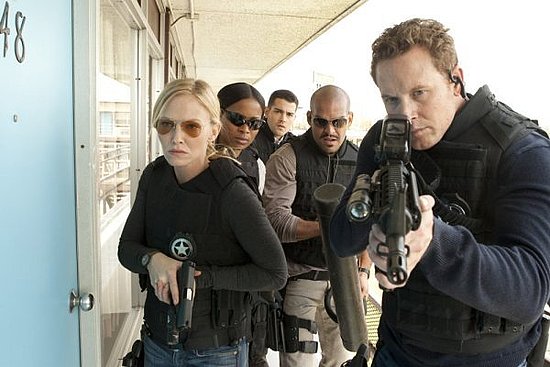 What it's about: U.S. Marshall Annie Frost (Kelli Giddish) is the mastermind behind a team that, in simple terms, hunts down the bad guys. Annie's presented as a tough, guarded (but not unfeeling) woman with a troubled childhood. In the pilot, Annie is hot on the trail of a serial killer while simultaneously trying to train a newbie Marshal (played by Jesse Metcalfe).
Where it works: The series is produced by Jerry Bruckheimer, and the pilot moves quickly and is all wrapped up with a big red bow at the end. I also like that the lead character is a woman who is confident enough to get respect at work but isn't lacking a sensitivity chip.
Where it doesn't: There's just nothing in Chase that grabs the audience by the throat, which is actually what the intention of a series like this should be. The writing is subpar, the plot is mildly interesting but quickly forgettable afterward, and none of the characters stand out enough to make a mark.
Am I hooked? No, but I'm not entirely turned off either. I'll give Bruckheimer's magic a few episodes before I make a steadfast DVR decision.
When is it on? Chase premieres on Monday, Sept. 20 at 10 p.m.
To watch a promo, just read more.