Pitch Perfect Movie Review
Pitch Perfect: Lacks Harmony
Within the first five minutes of Pitch Perfect, the stranger sitting next to me uttered that it seemed like a "total made-for-TV movie." I was originally put off by his flippant dismissal of the new comedy, but after sitting through the entire trite film, I have to agree. Anna Kendrick is at the heart of Pitch Perfect playing Beca, a humorless college freshman who joins the Barden Bellas, a floundering female a capella group, at the insistence of her father. While she'd rather be spinning records for the campus radio station, Beca reluctantly embraces the opportunity to help the group free itself from the binds of its traditionally snore-worthy performances. Though peppered with some laughs and a couple fun musical numbers, the movie ultimately feels uninspired.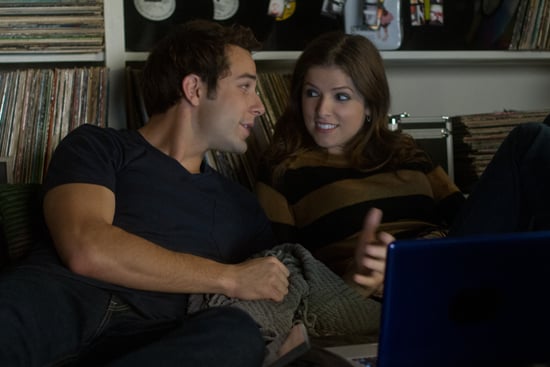 Borrowing aspects from the wealth of fish-out-of-water college comedies that have come before it, Pitch Perfect attempts to stand out from the rest by delving into the "cutthroat" world of a capella singers. Though many of the creative musical mash-ups like "Bright Lights Bigger City"/"Magic" are impressive, it's a gimmick that doesn't quite make up for the overall lack of originality. To find out what parts of Pitch Perfect I did enjoy, keep reading.
This movie should be a perfect vehicle for the musically gifted Kendrick. Having seen her standout vocal performance in 2003's Camp, I was excited that she would again get a chance to show off her pipes. Unfortunately, her character never gets the chance to fully belt it out. Beca gets to sing enough to qualify her way into the group, but she's more of the "idea girl," and it's a waste given Kendrick's potential. What's even more disappointing is Beca's one-note attitude. Her sullen demeanor is barely improved by a persistent love interest (Skylar Astin) who sings for The Treblemakers, a competing boys' a capella group. It's a drag to watch her kicking and screaming as those around her try to make her enjoy her life.
Beca's fellow Bellas show promise vocally, but they're all strapped with such overbearing personality quirks that the songs feel like little more than an afterthought. The highlight of the team is Fat Amy (Rebel Wilson), who calls herself such before any of the "twig bitches" can do it behind her back. Her dry humor, combined with a keen sense of physical comedy, makes Wilson's scenes easily the most enjoyable in the film. Workaholics' Adam DeVine also earns laughs as the cocky leader of The Treblemakers.
Running jokes like the girls' habit of affixing "a ca" to the front of words ("a ca-politics," "a ca-awkward") become tired pretty quickly. Not even the limited presence of Elizabeth Banks and John Michael Higgins as a pair of scathing competition commentators elevates the movie beyond its bland confines. Pitch Perfect fails to reach any high notes, and there's nothing here that fans of a good mash-up can't get from watching Glee.