The Place Beyond the Pines Movie Review
The Place Beyond the Pines: A Gripping Generational Story
The Place Beyond the Pines finds Ryan Gosling reteaming with his Blue Valentine director Derek Cianfrance for a striking drama about fathers and sons. Gosling plays Handsome Luke (yes, he's even dubbed a heartthrob by the announcer at the carnival for which he does motorcycle stunts), a guy from the wrong side of the tracks who finds out he has a baby with an old fling, Romina (Eva Mendes). Luke's discovery and subsequent foray into robbing banks in a misguided attempt to provide for his family would be enough fodder for a whole movie, but The Place Beyond the Pines takes a sharp turn with the entrance of Avery (Bradley Cooper), a well-to-do cop who has a run-in with Luke while on call. Almost immediately, the film becomes Avery's story until the final third when it picks up 15 years later. It's an unorthodox format, but the risk pays off.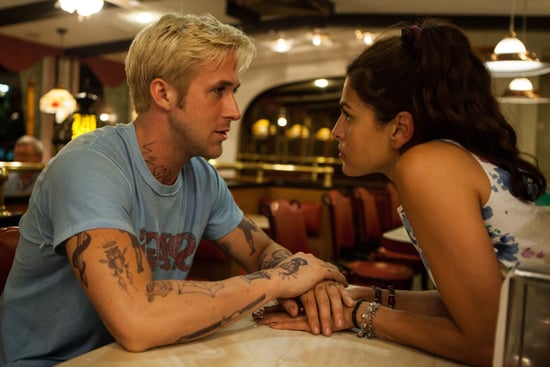 The way the film is laid out is one of its most unexpected and potentially polarizing elements, as viewers expecting to see Cooper and Gosling share a lot of screen time will be disappointed. Though technically it could be described as a crime thriller, it's really a story about a robber, then a story about a cop, then a story about their kids. Once you get past how jarring the format can be, The Place Beyond the Pines is pretty remarkable. To find out what else I think of the movie, just read more.
Each of the film's three stories (Luke's, Avery's, and their sons') could stand alone, but they're not all created equal. Luke's section is moody, suspenseful, and heart-tugging, aided by Gosling's subtle, powerful performance. Though Cooper is solid, Avery's story veers into sloppy territory. The story is less focused, struggling to cram in new characters and plotlines. It's Dane DeHaan, who doesn't appear until the final third of the film as Luke and Romina's adolescent son Jason, who is mesmerizing. The up-and-coming actor carries a burning intensity that is, frankly, disquieting. He's scary good (and sometimes just plain scary) as an unstable boy who grows up with a complicated family history.
From Cianfrance's long opening shot to the final confrontation, the film is riddled with tension and emotion. Everything is heavy: the score is sorrowful, the lighting is dark, and it seems like everyone is destined for hardship. Yet Cianfrance also showcases brief moments of hope (a spark of friendship, a smile between lovers) that make the film heartbreaking.
The Place Beyond the Pines isn't a traditional narrative about father-son dynamics, given that these fathers and sons don't even spend a lot of time together on screen. What it does do so well is demonstrate very clearly how each event, each action, each encounter, has a ripple effect on the next generation. Tragedy binds these families together, and it's the way Cianfrance presents their stories that distinguishes the film and makes the characters indelible.