The Playboy Club and Mad Men Differences
The Cast of The Playboy Club Talks Bunny Costumes, Female Empowerment, and How They're Different From Mad Men
NBC took front and center at the Summer TCAs on Monday, with The Playboy Club as the first new series to step into the spotlight. The cast, which includes Amber Heard, Eddie Cibrian, and Jenna Dewan, joined showrunners to discuss their upcoming drama about a Playboy Club in Chicago in the 1960s. The panel fielded a lot of questions about objectifying women (they promise that it's "empowering"), explained why the show isn't particularly racy, and addressed those inevitable comparisons to Mad Men. Here are highlights: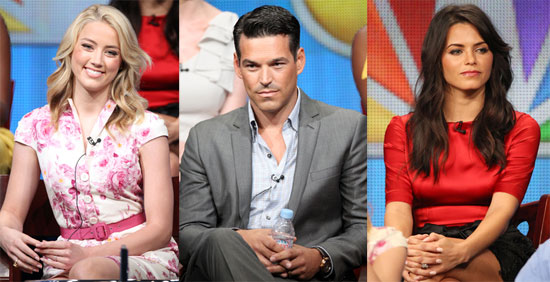 It's hard to ignore all the fishnets and cleavage, but the cast pounded home the theme that the show is really about female empowerment. Heard, who plays the central character Maureen in the pilot, said, "Maureen by no means relies on any character, male or female, as you'll see throughout her journey, and it's empowering. This is about choice, ultimately. It was a different generation, there were different opportunities and different expectations for women. . . . It's chauvinistic to deny a woman her sexuality. If they are making the choice, then they're not being exploited."
Her costar Jenna Dewan echoed this sentiment, saying, "Once we started doing research, we realized how independent these women were at a time when jobs for women were limited. These women had a big choice and there's freedom in that. And I think you'll feel that freedom in the show."
The showrunners were pretty straightforward when asked how the show will be distinguishable from Mad Men. They said the comparison ends with the 60s setting, and also cited the musical numbers as a major difference between the two series.
To see what the cast had to say about their costumes and Eddie Cibrian's new character, just
.
Speaking of music, the entire panel was very excited about the numbers that we'll be seeing on the show; apparently we can expect to see a number in almost every episode. Tony winner Laura Benati will be taking the stage most often, but the rest of the cast will get a chance to show off their pipes too. As for what icons will be sampled, the showrunners promised Sammy Davis Jr., Ray Charles, Sam Cooke, and Frank Sinatra.
The ladies got candid discussing what it's like to squeeze into those costumes. Dewan quipped, "It is tight, constricting, there's not a lot of [room for] drinking water." Heard was more transfixed with her experience, saying "You can't be in the suit for more than few seconds without feeling like you're part of the show. You're transported back to this time, to this moment in history. It's special because these costumes are just as specific as the club is, just as fantastic and imaginative. They exist nowhere else."
I was a bit surprised by how toned-down the pilot was, but apparently it's not an accident. The showrunners assured us that there's a big difference between the Playboy clubs and Playboy magazine. Bunnies aren't playmates or centerfolds, and the show favors "music" and "energy" over anything "racy" or "exploitative." That said, star Jennifer Lewis added, "The sex will be there, as it is everywhere in every show."
Hugh Hefner narrates the pilot, but that won't be the case for the rest of the season. He'll have a presence, but won't serve as the narrator.
Most of the panel's focus was on the ladies, but Eddie Cibrian did get a chance to add his two cents about prepping for his role as the dashing Nick Dalton. He said, "I looked at a lot of photos from that time, I read some books around that time and got a sense of what it felt like through a visual aspect of what these people felt in the early '60s. It was definitely a time of social revolution. It was about getting lost in a world. We're trying to invite people who've never been inside of this fantasy world, at a time politicians entertainers and mobsters all rubbed shoulders. From a nostalgia stand point, it's kinda cool for people to sit back and get lost in this world."
Photo courtesy of NBC