The Playboy Club Pilot Review
Pilot Scoop: The Playboy Club
With Mad Men off the air for now, you can get your '60s fix with tonight's premiere of new NBC drama The Playboy Club, which was supposedly inspired by Lane Pryce's affair with a Playboy bunny on Mad Men. The series takes us to Chicago in 1963, where a group of women are making their keep by strutting around a nightclub in lingerie.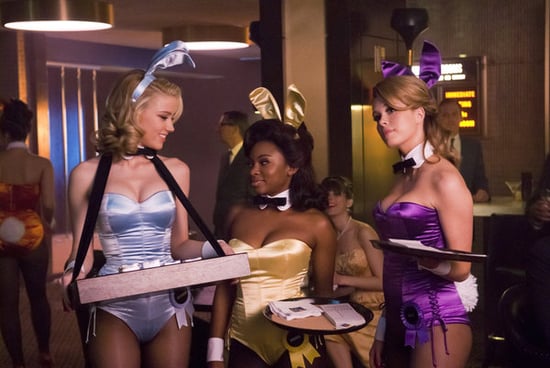 What it's about: Amber Heard plays Maureen, the new bunny on the block who is still a bit green but is earning her weight in tips as she dreams to sing on stage. Her initiation into a life of scandal comes early when she accidentally kills a creep who's trying to grope her. She gets some help from Nick, a handsome lawyer (Eddie Cibrian) with some shady mob connections and charm to spare.
Where it works: As a person who's pretty unfamiliar with the backstory of Hugh Hefner and the Playboy mansion, the '60s-set series kept my attention because of the glitz and glamour. The pilot introduces us to a wealth of characters (David Krumholtz shines as the club's current man in charge) and sets up plenty of fodder for where the show could go.
Where it doesn't: While the bunnies all look hot, none of them spark a huge amount of intrigue. Maureen's a bit too blah while the rest come off as caricatures. Cibrian's got the right look, but he's trying so hard to be Don Draper that it's distracting. What's worse is that Nick comes off as bland and uninteresting instead of dashing and mysterious.
You might like this show if: You can't get enough of Mad Men's 1960s nostalgia.
When it's on: Mondays at 10 p.m.
To watch a preview and see pictures from the pilot of The Playboy Club, just
.
Photos courtesy of NBC