Poppy Montgomery and Dylan Walsh on Unforgettable
Dylan Walsh and Poppy Montgomery Leave Their Old Characters Behind For Unforgettable
Dylan Walsh and Poppy Montgomery have become small-screen staples, thanks to Nip/Tuck and Without a Trace. Now, the stars are teaming up and heading to CBS for a new procedural called Unforgettable. The twist? Montgomery's character, Carrie, has hyperthymesia — which means she literally remembers everything (which comes in handy when solving crimes). Walsh and Montgomery took the TCA stage to discuss their new drama and why they're ready to mix things up from the roles that brought them stardom.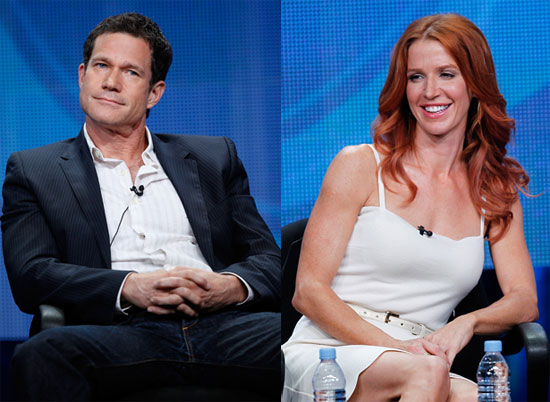 Producer Ed Redlich admitted that the show has gained extra interest thanks to a coincidental episode of 60 Minutes that aired earlier this year, featuring real-life individuals with hyperthymesia. In fact, Montgomery and the producers had some help from Marilu Henner, an actress who was born with the gift. Redlich even revealed that they're working on a "unique" character for Henner to play on an upcoming episode.
On Unforgettable, Walsh plays a detective and Carrie's ex-boyfriend who encourages her to go back to being a cop. When asked why he would want to play the less interesting character on the show, Walsh joked, "After seven years on Nip/Tuck, I was looking for something in law enforcement so this was perfect." He went on to say that the real reason he was drawn to the show was that it "looks into the people."
As for Montgomery, she said she wanted to do "everything differently" from her role on Without a Trace, and she credits her fiery new hair color as part of that difference. She also cited Carrie's "recklessness" and "lone wolf" qualities as why she was drawn to the role.
Redlich revealed that the series actually started as a short story a couple of years ago, and they've been developing it due to a universal fascination with memory and how memory works. Montgomery added that she'd like to have Carrie's gift "for one day, just to try out," and noted that it can be a blessing or a curse, depending on what kind of person you are.