Pretty Little Liars Recap For "Bring Down the Hoe"
Pretty Little Liars: The OMG Moments From "Bring Down the Hoe"
It's almost the Summer finale of Pretty Little Liars, and you know what that means: it's time for a spontaneous school event that no one has ever mentioned until this week! We've seen our fair share of dances and parties that pop up out of nowhere, but the barnyard square dance is by far the strangest. Any excuse to get all the girls in one place, right?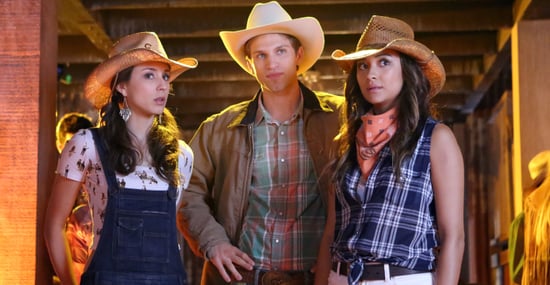 In all seriousness, though, and regardless of the means, we know we're getting to the end. CeCe is back and means business, a new witness might give Ashley Marin the big break she needs, and A sets up for another one of her dastardly games. Find out everything that happens in the recap below.
A mysterious student suddenly surfaces at Rosewood High. Speaking of things that pop up out of nowhere, it's pretty strange that this huge guy with a shaved head suddenly shows up and starts stalking Hanna. You'd think one of the girls might have noticed him before. We're glad he's here to help, though. He tells Hanna that he was there the night Wilden died and that Ashley left the scene before Wilden was shot. He might have exonerated Hanna's mom with his eyewitness account, but Caleb makes a good point: what if he was planted by A?
Jake is still perfect, and Ezra is still a hot mess. We're still drooling over Jake, who manages to be the only sexy square dancer in the history of time. Have mercy. He's also an incredibly sweet boyfriend, which makes it hard to sympathize with Ezra. Aria's busy trying to rebuild, while Ezra's life comes crashing down, and it's hard to see where this might go. Malcolm's almost out of the picture, though, and he was pretty much the only reason Aria and Ezra broke up. Also, she goes to see him at the end of the episode, so it's anyone's game at this point.

CeCe

's BACK. And with a red coat, to boot. Well, if there was still any doubt of CeCe being Red Coat, this week really spelled it out for us. It's the first time we've seen CeCe in a while, and it's only a brief glimpse, but the newspaper clippings from Alison's murder are more than enough to put her in properly devious context. We also catch her spying on Aria when she goes to see Ezra, which is never a good sign. Also, who's she trying to get ahold of in Rosewood?
Toby falls for A's trap. A sure knows how to dangle the bait, and Toby almost gets caught when he tries to get the recordings from his mother's psychiatric sessions. Something tells me he cares more about the truth than being careful, which could be detrimental for him come next week. We're just glad he got away this time.
Everything is part of A's plan. After someone almost stabs Aria's eyes out with what looked like knitting needles, we see our favorite gloved hands knitting tiny garments for five tiny dolls: one for each of the girls, including Mona. We can only begin to imagine what A has been planning, but all the pieces are finally falling into place. We know CeCe's Red Coat, but is she A? Will we ever find out who's really running the show?
No one's safe in next week's finale, and you can bet your "A" that we'll be holding our breath until then. And if you're trying to hone your pretty little fashion sense, then head over to POPSUGAR Fashion to shop the hottest looks from this week's episode!