Pretty Little Liars Recap For "Crash and Burn, Girl"
Pretty Little Liars: The OMG Moments From "Crash and Burn, Girl"
This week's episode of Pretty Little Liars really covers a lot of ground in terms of plot development, so much so that it almost feels convoluted. I swear, this show has a marvelous way of revealing a lot and absolutely nothing at the same time. In the case of "Crash and Burn, Girl," I couldn't tell if I was supposed to be pointing my finger at Jenna, Shana, CeCe Drake, or the ghost of Alison DiLaurentis.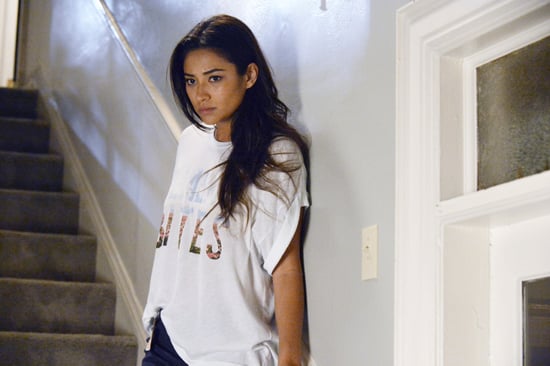 Let's rehash all the fun from this week, including a surprising new duo, the confirmation of something we already sort of suspected, and the ridiculous ending that I did not see coming. It's all covered below when you read on.
Toby and Caleb team up! Wow, dream team much? I can't remember the last time these two shared a screen for more than a minute, but when these guys join forces, I couldn't help but get excited. Caleb and Toby spend the episode doing a little sleuthing, trying to find out more about the night of the fire.
Hanna and her mom are both still a mess. Yes, seeing Ashley in an orange jumpsuit is pretty heartbreaking, but it doesn't mean Hanna has to spend the entire episode weeping in her room, does it? Hanna tries to get her mom to confess to killing Wilden and claim self-defense, so that she only gets sentenced 20 years instead of life. I guess things are pretty bleak when you're hoping for a 20-year prison sentence.
There is no limit to A's reach. I already thought it was completely bonkers when that weird man in Ravenswood presumably calls A from his cellphone, and this week only exacerbates the issue. The girls find a note from A in Wilden's apartment that mentions "the barbecue," and she has to be talking about the lodge fire, right? This not only confirms that A and Wilden were working together, but that Wilden did, indeed, plan that fire. A also seems to be in contact with that guy who works at the private plane terminal, because he also makes a mysterious call after Caleb and Toby bribe him for information. Speaking of which . . .
Who is this new blond guy? He seems pretty expendable, until Toby deduces that the lighter he found at the lodge fire belongs to him. The mysterious new character gets cornered and says CeCe Drake was the one who orchestrated the fake flight before he takes off running, leaving behind his phone. We then see him apologizing and serving tea to an offscreen person — whom he refers to as "babe" — and it's hard not to notice the sunglasses on the table. Jenna? Is that you?
Aria's brilliant ride on the judgment train. Aria provides the most hilarious moment in the episode while talking about Wilden's extensive collection of adult paraphernalia. Emily asks, "Wilden's a film buff? What, like classics?" and Aria retorts, "Yeah, if you consider Lord of the G-Strings a classic." She then continues asserting how grossed out she is until Emily tells her to focus. Genius.
What in the hell?! The most bizarre plot twist happens right at the end of the episode. Emily seems to be planning to return Wilden's apartment key to her mother, who might lose her job because of said missing key. Suddenly, a car drives through the living room wall, almost hitting Emily's mom in the process. Well, that's one way of going about things.
It looks like A's done being subtle. We can't wait 'til next week to see the aftermath.