Pretty Little Liars Recap For "Into the Deep"
Pretty Little Liars: The OMG Moments From "Into the Deep"
This week's Pretty Little Liars finally jolts some excitement into the season by threatening the life of a crucial character and muddling the actions of another. We're all trying to figure out why Mona confesses to killing Wilden, and it turns out she might have been crazy this whole time. Also, as A seems to be content with gravely injuring people who are closer and closer to the girls, it seems like it's only a matter of time before she closes in on one of the main four.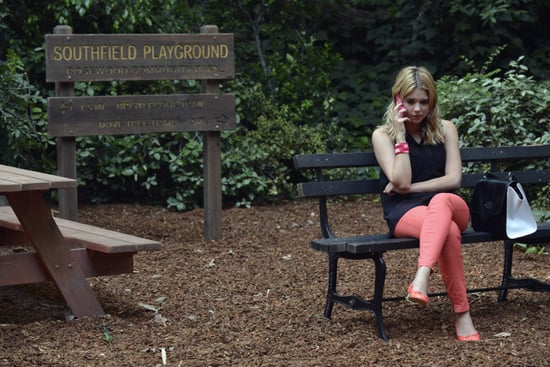 Things are starting to pick up, and I'm not complaining. Check out the full recap when you read on.
Aria needs to snatch Jake up, and fast. As soon as we got to see Jake changing in Aria's living room, it's a done deal. Aria needs to lay her claim. Jake is awesome, caring, and also happens to be devilishly good-looking. And ripped. Plus, did you see how jealous Ezra is when he spots the two together at the cafe?
Ezra's trouble on the home front. Looks like Maggie's heading to the West Coast for school, and she might be taking little Malcolm with. Ezra's not going down without a fight, though, as he lawyers up and gets ready to fight for custody. I don't even know what I'm rooting for anymore. I used to wish for Ezra and Aria's reunion — but now Aria has Jake, and Ezra would make a pretty studly single dad.
Did Paige and Emily just break up?! Paige does so much good-girlfriend duty this week and it all seems to explode in her face. She tries to set Emily up with an esteemed swim-trainer, but he rejects her because of her injury. Even her surprise party is a flop, because Emily decides to seize the moment and say she's not down to be with Paige long distance.
Is Jenna going to get killed off? I have to admit, I thought she was done for when she was face down in the lake with a gash in her head, but she apparently somehow is still alive. She reveals that she holds some vital information about Alison, though, so she may as well be on A's "to kill" list. Also, Tammin Sursok, the actress who plays Jenna, recently announced she's pregnant. Just saying.

CeCe

Drake might be red coat. At least one juicy tidbit comes out of all the drama: Shana drops a bomb when she says that Jenna is afraid of CeCe Drake. Does that mean she's the real A? Does that mean she's red coat? Does that mean she killed Alison?! I can't breathe.
Mona definitely just checked herself back into Radley. I'm still confused about Mona's game here. First she confesses to killing Wilden, then she tells Hanna that false confessions happen all the time and it might not have done anything, and then she checks herself back into Radley. She runs her fingers over a carved phrase in the desk that says, "Will the circle be unbroken?" Has she been crazy all this time? Or is everything part of some greater scheme that we can't even conceive yet?
Don't forget to shop the most killer outfits from the episode over at POPSUGAR Fashion!