Pretty Little Liars Recap for "The Guilty Girl's Handbook"
Pretty Little Liars: The OMG Moments From "The Guilty Girl's Handbook"
This week on Pretty Little Liars, there's a lot of talk, but not a lot of action. Ashley Marin pleads not guilty to the murder of Detective Wilden, and Hanna decides she can't just wait around for her mom's inevitable incarceration. Meanwhile, Spencer does a little detective work of her own, and Emily's storyline begins to look like it's going to be a dud.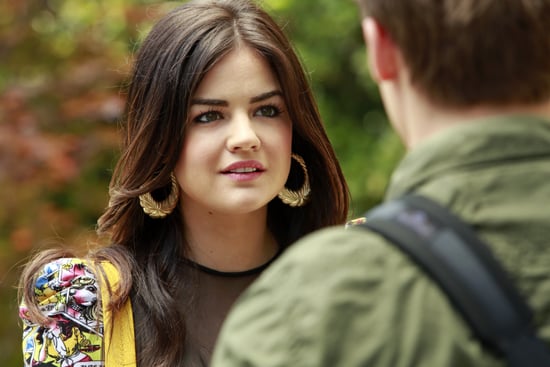 It's all pretty much dead ends right now, but that didn't stop the writers from slapping us in the face with a surprise twist at the end of the episode. Find out exactly what happened when you read on.
Ashley Marin is stuck in prison. I mean, she refused to take the plea bargain last week, so we already knew this was coming. What sucks, though, is that the judge doesn't grant her bail, and she's stuck in prison for the foreseeable future.
Hanna's going to confess?! I gasped when Hanna drops that bomb within the first 10 minutes. I should have known something was up as soon as I saw Mona. Hanna decides to take the fall for her mom, because they'll go easier on a minor. Is it weird that my first thought was, "A probably already knows about this"?
Spencer is workin' on her own secret lawyer work. I love when Spencer goes into business mode. She pops into Radley to do a little bit of light blackmailing and finds out Wilden lied in the official report of Toby's mom's suicide. Of course, Veronica Hastings doesn't want to hear any of it when Spencer tries to present the evidence, though.
Emily goes from 60 to 0 in five seconds. Emily's arc this season has been so exciting, so what happened? She has an episode-long drug addiction, then Detective Taylor implicates that she might be a suspect in Wilden's death, and then a car drives through her living room. This week, she meets with a former advisor, and makes her mom cry because she wants to do volunteer work in Nicaragua. That's it. Yawn.
Mike continues to bore us with his side plot. And then there's the other stuff we don't care about! Mike's taking self-defense classes because his teammates are picking on him. He goes to a party and Aria freaks out, only to find out he's fine. She even called that hot karate instructor Jake over to help find Mike. I was less concerned about Mike's well-being, and more concerned about when they were going to start making out.
Mona confesses instead of Hanna! I thought she was going to just turn Hanna in as part of the elaborate plan, but Mona takes the blame! Serious gasp moment. Also, my respect for Mona just went way up. What does this all mean, though? Maybe everything will just fizzle out, and everyone will live happily ever after. Either way, I'm getting kind of bored, so I hope A has something sinister up her sleeve.
Feel like you can't get enough of Pretty Little Liars? Shop all the looks from the episode over at POPSUGAR Fashion!