Pretty Little Liars Recap For "The Mirror Has Three Faces"
Pretty Little Liars: The OMG Moments From "The Mirror Has Three Faces"
If there's one thing we've learned over the course of our time with Pretty Little Liars, it's that no one can be trusted. In this week's episode, Maggie reveals a shocking fact to Ezra, and Hanna places her trust in someone who's engaging in some shady business of his own. We're two weeks away from the Summer finale, and things are starting to build toward what might be a cataclysmic conclusion.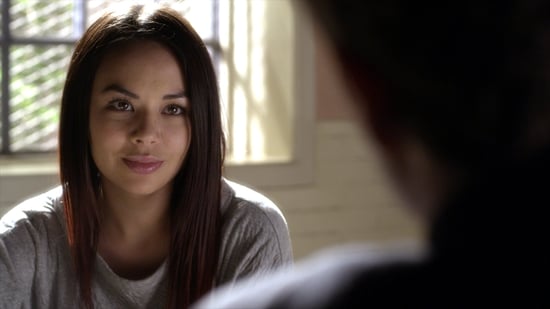 Let's talk about all the OMG moments in this week's episode. We're covering it all below when you read on!
Ezra Fitz is a MESS. Ezra drops a bomb when he reveals that he had Malcolm's paternity tested . . . and he's not the father. You mean Aria and Ezra broke up for nothing, and now she's moved on and he's left in absolute shambles? I'm going to need to take some time to process this.
Emily moves into Alison's old room. Yes, it's creepy. Yes, it's a little bit of a non sequitur. Even so, it opens a door for a new and peculiar opportunity. Not only do Emily and Mrs. DiLaurentis admit to each other that they've both seen Ali postmortem, but we also witness a terrifying cat-and-mouse scene between Hanna and Red Coat — who's wearing Ali's face as a mask. And can we take a moment to consider whoever set up camp in the basement and drilled holes to spy on the family? I'm seriously going to spend the night scouring my floor for holes.
Is Wren on the A team? You know, I always thought Wren was totally harmless and innocent. This week, though, he proves that there's more to him than a pretty face and a British accent; he tries to break Mona with mind games, and then kisses up to Veronica Hastings before he turns around and throws her under the bus. As a result, Veronica must recuse herself from Ashley Marin's case, leaving Ashley vulnerable and ripe for A's picking.

CeCe

's possible motive is revealed. Aria follows a lead to a random address in Philadelphia, and runs into a girl who knows CeCe. We've covered the ground on the frat party incident with the stairs before, and we even knew it was probably Ali that did it. What we didn't know is that Ali blamed CeCe and got her kicked out of school. The residual hard feelings that CeCe's harboring are still alive and well, even today.
A begins to set the plan in motion. It seems A used Wren as a puppet to get Mrs. Hastings thrown off the case, but that's not all. At the end of the episode, A drops Ashley's muddy Manolo Blahniks among the wreckage of Emily's former house. Does this mean A's trying to implicate Ashley in the living room crash? Wasn't Ashley in prison?! Either way, A's tying everything up with a neat little bow, and we're not sure who's going to get out of the situation unscathed.
Ready to take your Pretty Little Liars obsession to the next level? Shop the hottest trends straight from this week's episode over at POPSUGAR Fashion!