Pretty Little Liars Season 4 Summer Finale Recap
Pretty Little Liars: The OMG Moments From the Summer Finale
This week's Summer finale of Pretty Little Liars really packs a wallop, and we're still staggering and trying to recover. A takes the girls through another dizzying game of cat and mouse, and we're not sure we want to know what happens if they lose.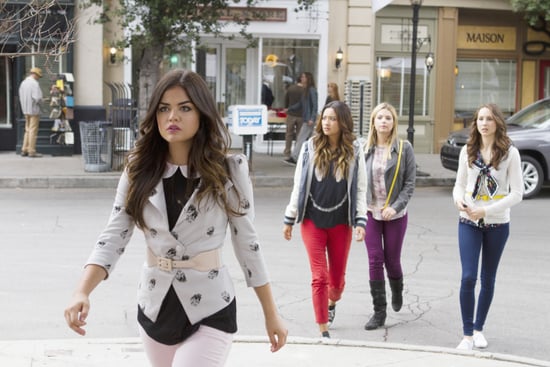 Is CeCe really Red Coat? Is Alison alive? Who is the mastermind behind A? Well, we got more than our fair share of answers. The Summer finale drops not one, but two huge bombs, and we can't even begin to process what this means for the coming seasons. Check out the full recap after the jump.
Ashley Marin's murder charges are dropped. The mysterious witness from last week follows through and identifies Ashley as the woman who fled the scene before Wilden was murdered. It's a good thing, but it's also a bad thing, as A warns the girls, "If she goes free, you'll hear from me. Kisses, A." Ashley may be safe, but it means the girls might be in a world of danger.
Shana and Mona are in cahoots. Toby follows Shana, who leads her straight to Mona. If Mona's working with Shana, does that mean she's evil again? Too bad, because we were just starting to warm up to her.
CeCe is, in fact, Red Coat. But there's a catch: there are actually two Red Coats! After Emily almost gets sawed in half, Spencer chases the Red Coat who exits the building, while Aria follows the Red Coat who heads into the rafters. Aria gets into a fist fight (looks like those self-defense classes paid off!), and kicks off her combatant's mask to reveal CeCe. At the end of the scuffle, CeCe falls to the ground floor, and eventually escapes. The other one has to be Alison, right?
What's going to happen to Caleb? Caleb tells Hanna he'll get to Ravenswood as soon as he can. We see him waiting at the bus stop, and an old, rickety bus sputters into view. Caleb gets on, and we never see if he makes it to his destination.
Alison is ALIVE?! The mysterious Mrs. Grunwald unleashes a doozy with just a few minutes left in the episode. She confesses that she lied to Spencer about knowing Ali, and that the girls "don't want to go after her." She also says she pulled Ali out of the ground on the night she was murdered, but when she ran to get help, Ali vanished. She then confirms the girls' suspicions, saying, "Haven't you all felt it? She was never really gone." She also tells the girls to leave Ravenswood because they're being watched. "He's hoping you'll lead him to Alison! He's here."
Ezra is A?! Yes, you read that correctly. The girls happen upon yet another one of A's lairs in Ravenswood. It's an immaculate space, filled with tons of photos, timelines, and endless means of surveillance. It's also stocked with suits, leading Hanna to suggest that A is a man. In the final scene, none other than Ezra walks in to discover that someone else has been there, and he's furious. How could he?! What's worse, while the audience knows about Ezra, the girls still have no idea.
We're glad we have a little time to recover, because we're feeling emotionally fragile and unable to trust anyone. One thing's for sure: we can't wait for Halloween. Don't forget to snag the hottest looks from the Summer finale, courtesy of POPSUGAR Fashion!