Pretty Little Liars Winter TCA Panel Interviews and Season 2 Details
Pretty Little Liars Scandalizes the Winter TCA
ABC Family's surprise hit Pretty Little Liars kicked off its panel at the Winter TCA with some good news: the series has been picked up for a second season! And there's more: stars Lucy Hale, Shay Mitchell, Ashley Benson, and Troian Bellisario joined executive producers Marlene King and Oliver Goldstick on stage to talk about the warm response the show has gotten, the impact of the characters, and what's next for the mysteries and relationships.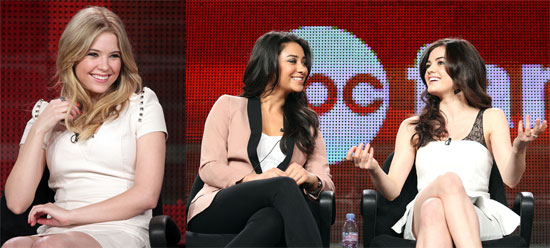 The cast and crew talked a lot about the book series by Sara Shepard that the show is based on, and revealed that all the principal cast members had read the books. Hale said she had only planned on reading the first book, but couldn't put them down and has read them all.
As far as how closely the show is following the books, Goldstick says that the writers try to stay true to the novels, but admits that "If we paid strict allegiance to the books, we'd be done in one season." He promised some "detours and surprises along the way," and King assured the audience that they have "plenty of mystery for four or five years." Of concerns about diverting from the books, King said that the goal is to stay true to the characters.
Mitchell, who plays gay character Emily, says that she's gotten a lot of positive feedback for portraying someone who's confused about her sexuality, particularly via Twitter. She says she has heard that people have been touched by Emily's recent coming out and says, "If I can represent the gay community in a small way, I'm so honored."
To hear more tidbits, like what's coming for Aria and Ezra, and who else "A" might be, just read more.
The scandalous relationship between Aria and her teacher Ezra (whom King says they've dubbed "Ezria") is still very much on. King says the couple will "continue to look for ways to be together, but continue to find that they're constantly presented with obstacles along the way." When questioned about the consequences of what the relationship would be in real life, the producers say they sidestep the sex issue. Said Goldstick, "The focus is very much on romance," and that it's not a sexual relationship. "There's a concerted effort to build a romance, and nothing more."
The girls talked personal style in contrast to their characters. While Benson said that she is edgier and wears more black than Hanna, who's girly, Hale is the opposite, saying she's girly, while Aria's style is "quirkier and edgier." Mitchell says that sporty Emily is totally different from her, but she loves it, cracking that she's "seriously in somebody else's shoes because I don't own that many sneakers." Hale joked "You're like an Adidas model."
Don't count on finding out who "A" is anytime soon. The show-runners are adding suspects who aren't in the books, but still paying homage to the characters that are there. So "A" might be someone we haven't even met yet. Tricky!
Be sure to stay tuned for more exciting updates all week long from the Winter TCA!