Preview of Jimmy Kimmel Live's Twilight Saga: Total Eclipse of the Heart Special With Robert Pattinson and Kristen Stewart
TV Tonight: Kimmel Has a Total Eclipse With Twilight Stars
Last week the Eclipse cast taped a special episode for Jimmy Kimmel (hence all of those behind-the-scenes photos), and it's airing tonight! Titled Jimmy Kimmel Live's Twilight Saga: Total Eclipse of the Heart, the show includes everyone — and I mean everyone — from the Cullens to the wolf pack to Victoria and the Volturi. Best of all, it's at 10 p.m. EST, so no nodding off (you know, in case your Taylor Lautner-loving mom wants to watch, too).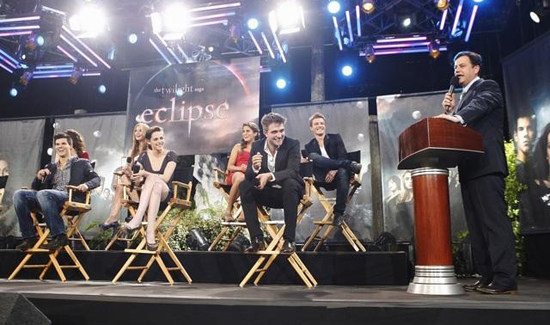 I'll be tuning in to see how Kimmel handles the Rob and Kristen romance rumors; plus, Jersey Shore's guidos and guidettes will cameo with their own impressions of Bella and Edward (you won't even recognize The Situation in pale face!). For a teaser of what else is in store, check out the video when you
.
Photo copyright 2010 ABC, Inc.