Preview of $#*! My Dad Says With William Shatner
Fall TV Spotlight: $#*! My Dad Says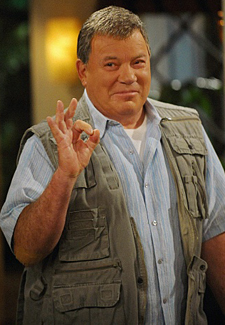 It seems like just yesterday that we were putting our favorite TV shows to bed for the Summer (um, because it practically was?!), but excitement for the Fall lineups is already revving up! So starting today, I'm kicking off my Fall TV Spotlight series, a quick 411 on the most talked-about shows to help you make sense of all the new offerings. First up: $#*! My Dad Says (yes, that's the title).
Who's in it: William Shatner is the big name here with a supporting cast that includes MADtv alums Will Sasso and Nicole Sullivan, and Ryan Devlin who most recently appeared in the finale of Grey's Anatomy.
What it's about: Shatner plays Ed, a crotchety father and war veteran with a case of word vomit; Devlin is his son Henry, an out-of-work writer who is trying to get his life together.
Why it caught my attention: It's based on the popular Twitter page that spawned a website and book. Plus, it has Shatner whose cult following knows no bounds, whether he's doing Priceline commercials or singing "Total Eclipse of the Heart." My only concerns: 1) the title. CBS has debated about what to call it, and looks like they're settling on the censored $#*! for now, which is kind of a mouthful. 2) Can you really create a show from Twitter?!
Show most likely to: Have the best one-liners.
The jury is obviously still out until the show premieres on Thursday nights this Fall, but take a look at a clip when you
.
Photo and video courtesy of CBS