Printable 2011 Oscar Ballot 2011-02-17 16:00:36
Print and Share Your Own Oscar Ballot!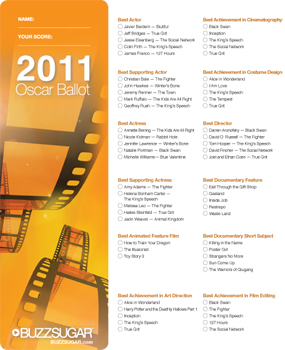 The Academy Awards are next weekend! Have you made your winner predictions yet? To add some extra fun to your Oscar night, I've made this handy printable ballot so you can play along at home. Just click here to get cracking.
And while you're at it, fill out your selections on my online ballot as well. The reader who chooses the most awards correctly will win a 46-inch Samsung HDTV! Sure beats your office pool, doesn't it? You must be a registered member of the PopSugar Network to join in, but if you're not a member yet, just click here to sign up. Check out the official rules here, and you have until noon PST on Feb. 27 to enter — so get guessing!