Printable Emmy Awards Ballot Sept. 2011
Watch Tonight's Emmys With Our Printable Ballot!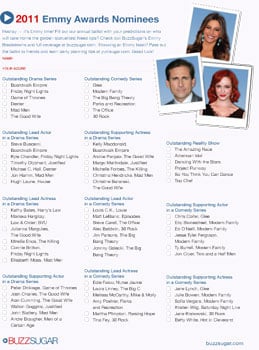 Emmy Sunday is finally here! Get ready for tonight's big show by printing our handy Emmy ballot, which lists all the nominees. All you have to do is click here to download the ballot, and then you can print enough for yourself and any viewing party guests.
And don't forget PopSugar is bringing you LIVE Emmy red-carpet coverage, including arrivals and red carpet fashion starting at 6 p.m. EDT/3 p.m. PDT! Happy viewing!