Printable Emmy Ballot
Print My Emmy Ballot and Vote For Your Favorite Nominees!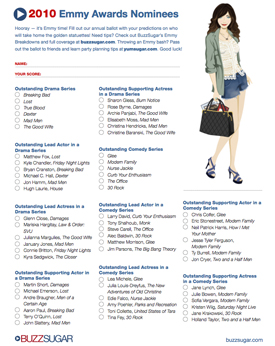 Get ready for the Emmys by printing out your own Emmy ballot! All you have to do is click here to download the pdf for a handy list of nominees to check off. Best of all, you can make copies to pass around to friends at your awards shindig (for extra party-planning tips for the big night, just consult PartySugar). You can even challenge your guests to my Emmy game.
But before Sunday evening hits, be sure to fill out my online ballot with your picks for this year's awards. If you guess the most correctly, you could win an iPad. Consult my Emmy breakdowns if you need some extra guidance with your selections. Good luck!