Printable Golden Globe Awards Ballot 2012
Print Out Your Own Golden Globes Ballot!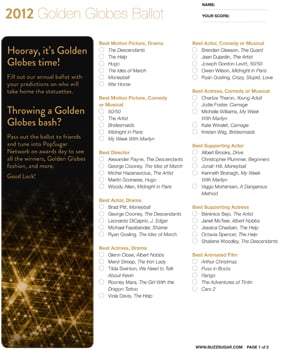 Award season is officially upon us, and we've got a way for you to get in on all the Golden Globes goodness. To kick things off, it's time to print out your very own ballot we've designed just for you! We know Ricky Gervais is officially hosting, but if you're hosting your very own Golden Globes gala, it's a great way to get everyone involved — even if they're not the die-hard entertainment buff we know you are! Click here for a printable Golden Globes ballot.
Once you've got that ready to go, be sure to fill out our online Golden Globes ballot for the chance to win a nice chunk of change. The user who makes the most accurate guesses will win $1,000!