Printable Oscar Ballot For 2012
Print Out Your Own Oscar Ballot at Home!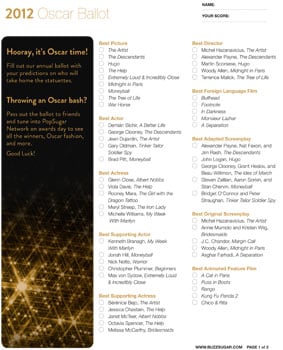 We can't wait for Oscar night to get here! If you're looking to add a little extra fun to the big night, we've got a great idea for you: fill out your very own beautiful Oscar ballot! For the movie buffs at your party, it will be their time to shine, and for people just coming for some festive fun, it will make them feel more involved in the night. Just click here and you're on your way.
As you're making your picks, be sure to fill out our online ballot as well. Why, you ask? You'll be entered for the chance to win a brand-new iPad along with a gorgeous Prada case. If you'd like to make all that goodness yours, you've got to be a registered member of the PopSugar Network. But have no fear, the process is so easy — just click here to sign up.