Project Runway Recap: Episode 3, "Bright Lights/Big City"
Project Runway Rundown: Episode 3, "Bright Lights/Big City"
The challenge on last night's episode of Project Runway was nothing new: Take inspiration from the sights and sounds of New York City and turn it into something fierce. It may not have been the most earth-shattering challenge (they did it in season two, remember, with Daniel V.'s orchid-inspired winner?), but if I were a designer on the show, I probably would have really enjoyed it. Some designers were lacking in original inspiration, though: The "street" designer Terri went straight for — what else? — graffiti! Meh. We've seen it before. Viewing all previous seasons of Project Runway should be required for all contestants. Hilariously throwing a wrench in the old "find inspiration from the city" idea, though, was the fact that it was dark and rainy outside, so we watched people whose clothing aesthetic is supposed to be more refined than the rest of ours suffer through the hideousness that is the poncho. There's lots more to talk about, including one of the best comments made from a guest judge ever and the most crushing critique I've heard from Nina in awhile, so
.
Before we chat about the good, the bad, and the ugly, here are some of my favorite (and least favorite) moments . . .
Sandra "nightlife aficionado" Bernhard was the guest judge . . . because they took pictures of nighttime for the outfits? Who knows. Regardless, she delivered the best judgment ever, declaring that a woman wearing Terri's dress would turn to someone following her down a dark street and say, "I have a knife and I will cut you up!"
Argh! I will wage a one-woman war to ensure Suede never wins fan favorite if he doesn't stop speaking in the third person! And in front of Heidi, no less!
Stella is always kind of needing help. Like when she couldn't figure out how to work the digital camera. Or when she was in the fabric store begging for help. As soon as I saw the printers in the workroom, I thought, "Great, Stella won't know how to work that, either."
Yes! Keith uttered his variation of the reality TV phrase that someone's just gotta utter at some point: "You know I'm not here to become their friend."
Biggest eye-roll of the night goes to weirdo Blayne who tried to teach poor Tim the phrase "Holla atcha boy." It was lame and stupid, but kudos to Tim for being a good sport.
Nina actually said she had nothing to say about one design. "The worst review is no review!" declared Michael Kors. Ouch.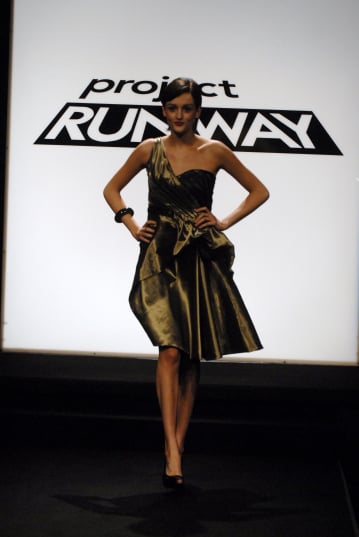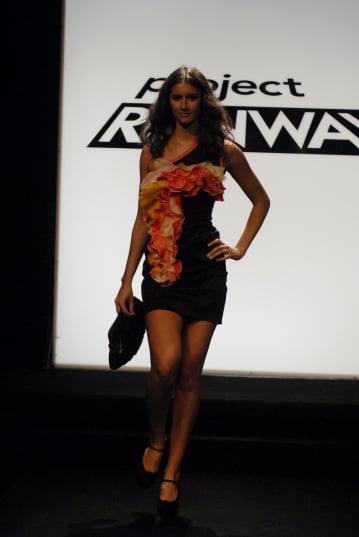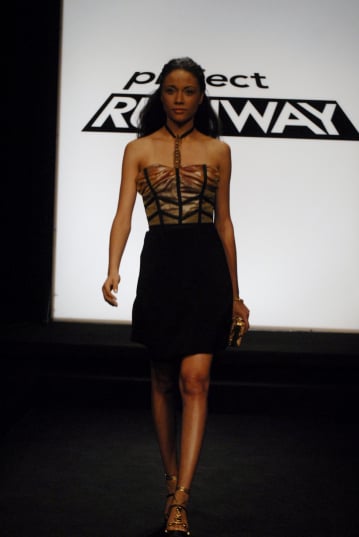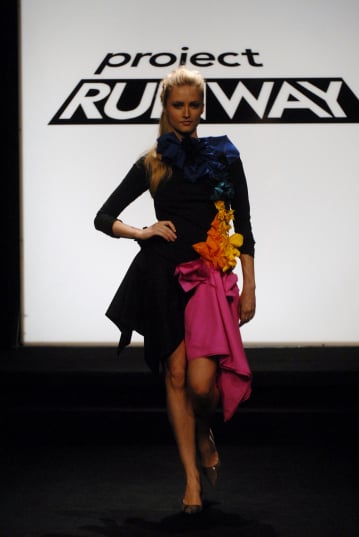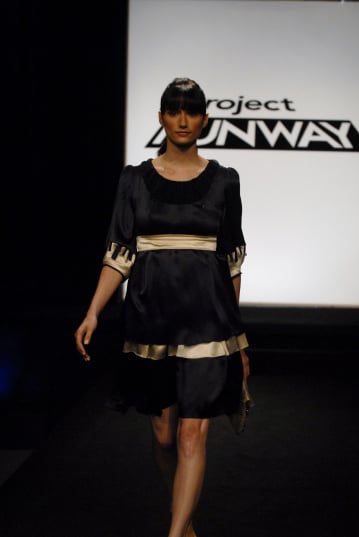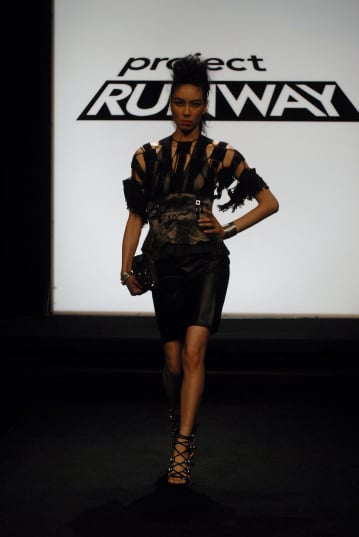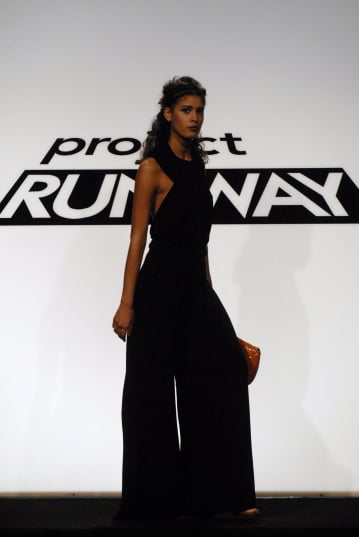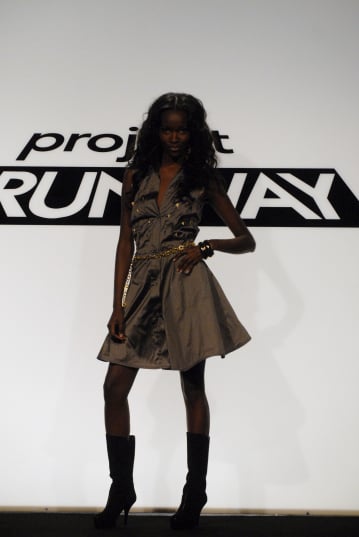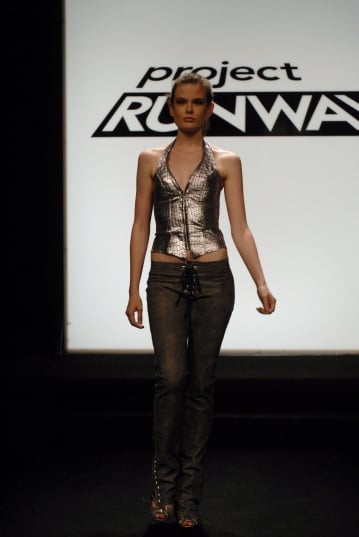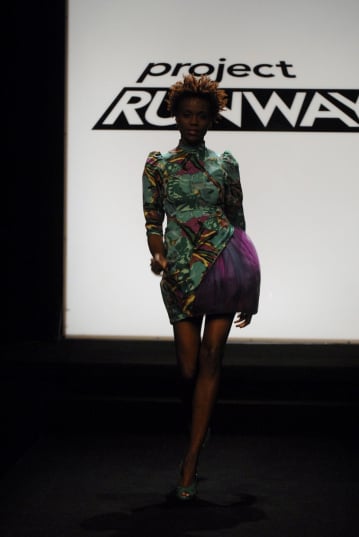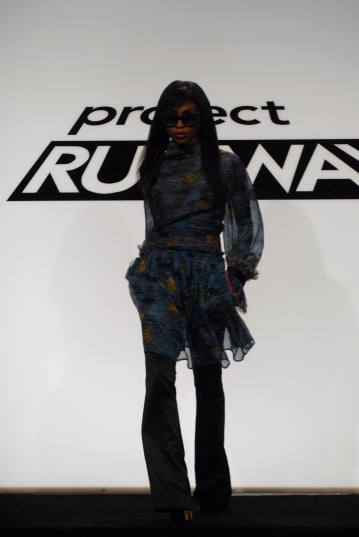 As for the best and the worst:
Kenley — I could never pull off wearing the dress she made, and I think the majority of women in America feel the same way. However, I agree with the judges that it was original and surprising that she managed to pull it off. There was a bubble of tulle, and the shoulders practically looked padded, but she made its '80s vibe work.
Keith — Ick. Michael got it right when he said that dress looked like toilet paper. I'm surprised that didn't get him the boot.
Terri — Her dress was the one that earned Sandra's awesome praise and the judges were pleased with the outfit. The entire episode I had a nagging feeling that her "graffiti" look was not going to turn out well, so she really surprised me.
Emily — That dress looked like a really bad outfit from my Barbie's old closet. The ruffles were terrible, and I didn't like the colors either. What was she thinking?
Leanne — Oh my gosh, what an improvement! It's nice to see a designer really absorb the judges' feedback (in her case it was to edit her designs) instead of complaining that they just don't "get it." I thought her skirt was gorgeous and was surprised she didn't win. I would totally wear that.
Jennifer — Her dress was really dumpy, and the judges were not happy with it at all. Heidi was so put-off by it that she wasn't even curious to see what else Jennifer could do. For all Jennifer's talk of surrealism and such, I too am unsure of her point of view, and she'll be in trouble if she doesn't pull it together soon.
What did you think of last night? Were you sad Emily got axed? Or do you think it should have been Keith or Jennifer? Were you glad Kenley won or do you think it should have been Leanne or Terri?
Photos courtesy of Bravo