Project Runway Recap: Episode Seven, "Fashion That Drives You"
Project Runway Rundown: Episode Seven, "Fashion That Drives You"
Last night's episode of Project Runway was surprisingly entertaining (I figured it would be hard to follow the drag queen episode) — not because of the challenge, per se, but because Tim Gunn shamed the designers right off the bat, reminding them of how pathetically they performed in the very first challenge that required innovative thinking. And thank goodness Tim lit that fire under their you-know-whats, because otherwise we would have seen a boatload of beige seat belt pencil skirts coming down that runway, which makes me fall asleep just typing about it. As it happened, we were only subjected to a small percentage of seat belt skirts (and one unfortunate seat belt dress) while a good portion of the designers used this challenge as a moment to stand out. So far this season I've been unsure about which designers I would want to see at Bryant Park, and this Saturn hybrid commercial car parts challenge helped me understand who among this group has taste and vision and who just . . . doesn't. To see which designers I have a new respect for and what I thought of one designer's mental meltdown,
.
Before I run through the looks, here are my thoughts from last night:
I'm glad Korto's jacket was such a hit, because Terri was so obnoxious during this challenge! It's just really bad form to point and laugh at your competitors like that.
Speaking of Terri, her outfit was really boring to me, which was disappointing after seeing that amazing samurai drag queen outfit she made last week.
When Tim told Kenley her model had dropped out, I wondered if the periodical model disappearances on Project Runway were due to illness or something? But then Jerell rang in with models taking other jobs and how they have to make a living too, and I got it.
OMG! Stella's boyfriend! I nearly fell out of my chair because a) his name is Ratbones and b) they want to design clothing together under a label named "Zotis & Bones." I really want to go play pool or throw darts with Ratbones and Stella. I think that would be an amazing way to spend an evening.
Keith! We'll discuss further, but my goodness, man, pull yourself together. He was a complete emotional mess last night, and when his model sat down and ripped her skirt I felt so bad for her. Like, "Run, girl, cause he is going to cut you!" bad.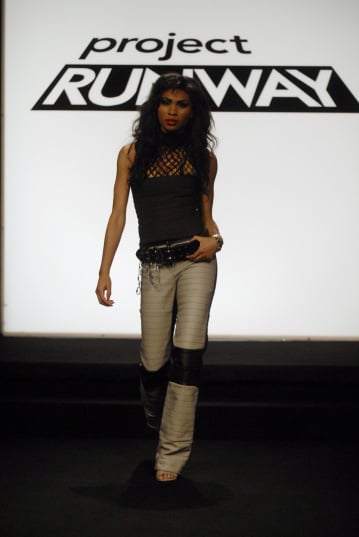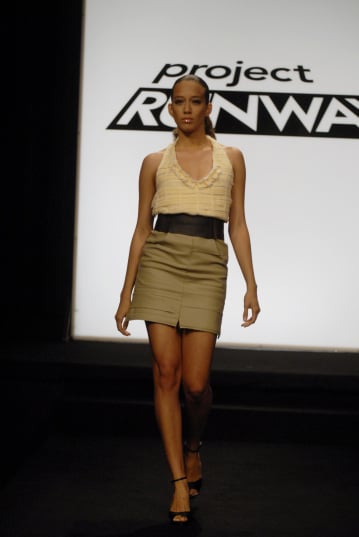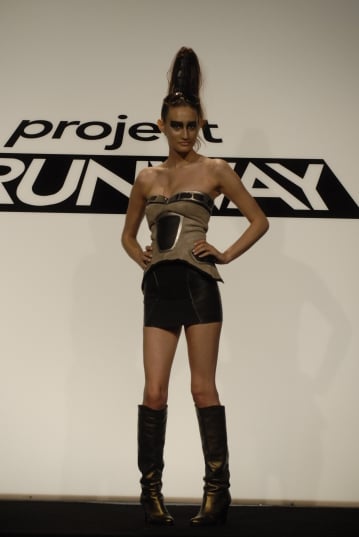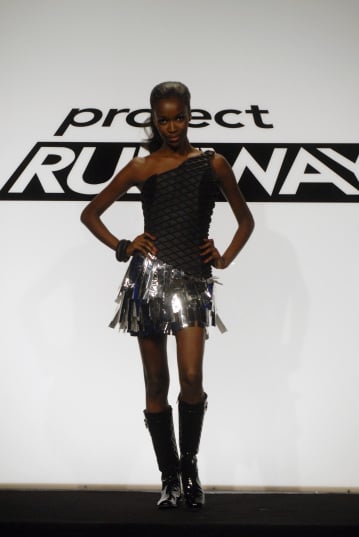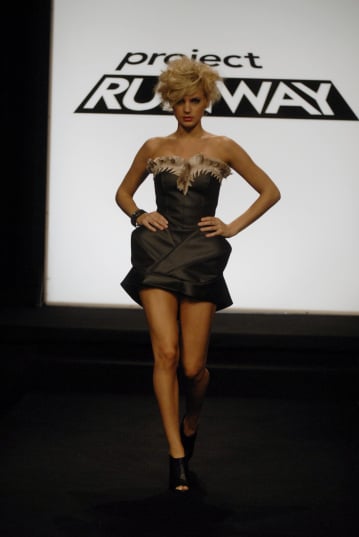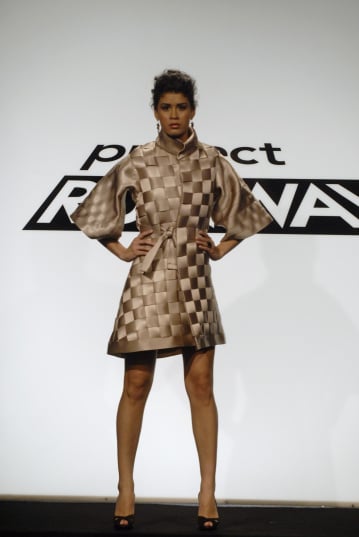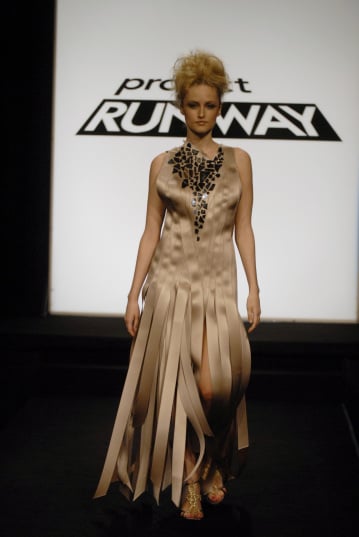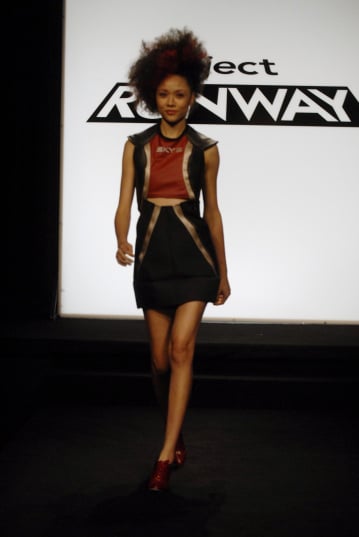 As for the best and worst:
Jerell — Guest judge Rachel Zoe called his futuristic get-up "intricate," and while the overall look was over-the-top, the judges were impressed because it worked together well.
Blayne — Michael Kors hit the nail on the head when he said it looked like a car wash, and the fit at the top of his seat belt dress was wretched. Who's that flattering on? Nobody. I continue to be unimpressed with Blayne.
Korto — Despite Terri's insults in the work room, the judges were completely enamored with her woven seat belt jacket. Rachel said several times she would walk right out of the building in that jacket. I like Korto and think she is one of the few designers with a specific point of view that she brings to the runway each challenge.
Leanne — I was so impressed with Leanne, and so were the judges, who made her the evening's big winner. Her skirt was awesome, and I could see it on a red carpet. I think Leanne is emerging as a serious contender for the finals — what do you think?
Stella — Uh, what? What was she thinking? Well I guess we know she wanted to do something besides hammering and grommeting but clearly she should stick to what she does best: leatha!
Keith — Poor, poor Keith. He was just was all kinds of neurotic last night. I know I should feel some sympathy for the guy, but his excuses on the runway were too much, forcing Michael to deliver a smackdown lecture on taking criticism. Plus his dress was seriously plain, and the back was horrendous.
So did you think it was Keith's time to go? Did you feel bad for him, or do you think he'll never get anywhere in the fashion biz if he doesn't grow a thicker skin? Which look was your favorite? Did you want Korto to win or were you happy for Leanne? Any idea who you'd like to see in the finale yet? And how great was it to see Laura Bennett?
Photos courtesy of Bravo