Project Runway Rundown: Episode 1, "Let's Start From the Beginning"
Project Runway Rundown: Episode 1, "Let's Start From the Beginning"
Well, welcome back Project Runway. You may not have been gone for long, but it's good to have you back all the same. As for the first episode, it wasn't called "Let's Start From the Beginning" for nothing. They took it back to the very first episode of season one and re-created the first challenge. You know, the one where Austin Scarlett made a dress out of corn husks. And who better to introduce the task and guest judge than Mr. Scarlett himself? I'm happy to report he is as over-the-top as ever. Now, on to the new class: ProjRun cycle cinco. I'm excited about some of the contestants, but overall I was left wanting a little more, especially since many of these designers clearly didn't do their homework. I mean how obvious is it that you shouldn't use a cloth-like fabrication for an innovative grocery store challenge? I thought that Tim Gunn was right on when he said the designers would be called out for their laziness. And of course they were.
There's plenty more to talk about (tell Fab what you think, too), including a gallery of all 16 looks, so
.
Before we get to the breakdown of the designs, some random thoughts. . .
Blayne's obsession with tanning is both obvious and hilarious.
I can't handle Suede talking in third person. So annoying. It makes me think that he just changed his name to Suede and hasn't gotten used to it yet, so he needs to say it out loud as much as possible to prove that his name is now indeed Suede. Also, I have a feeling that his experience only dealing with denim (Polo Jeans, Todd Oldham Jeans, Jordache) is going to be limiting.
Wesley is just adorable. 'Nuff said.
The fact that Terri describes her personal style as Aerosmith meets Lauryn Hill meets Michael Jackson makes me question her taste level.
I'm calling it now: This season's "fierce" will be "holler at your boy."
Now a quick highlight of some of the more memorable (for better or for worse) looks of the night. . .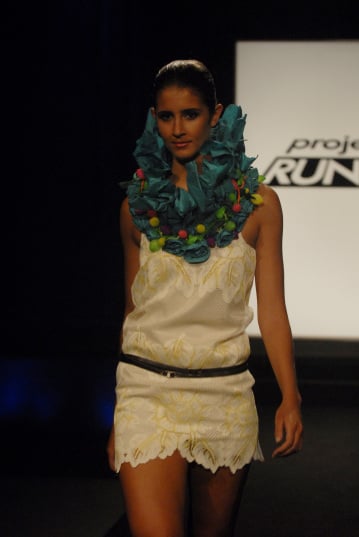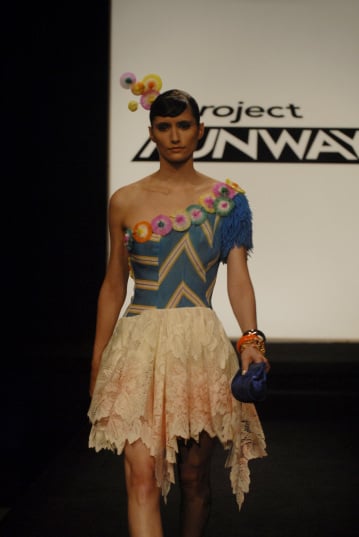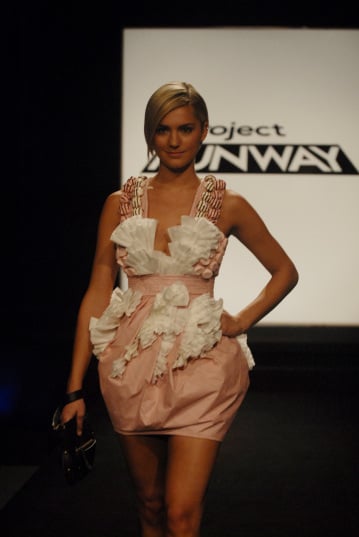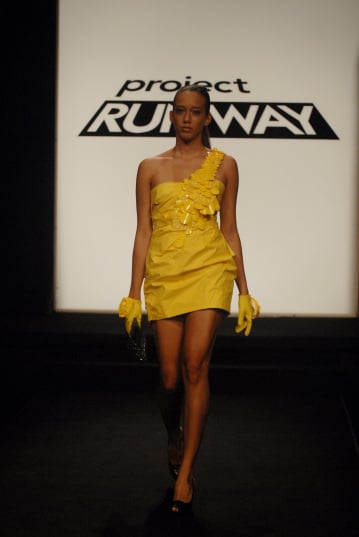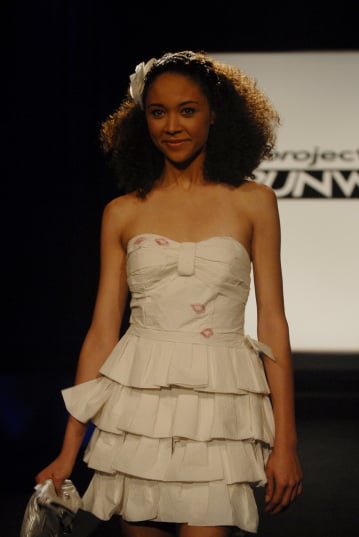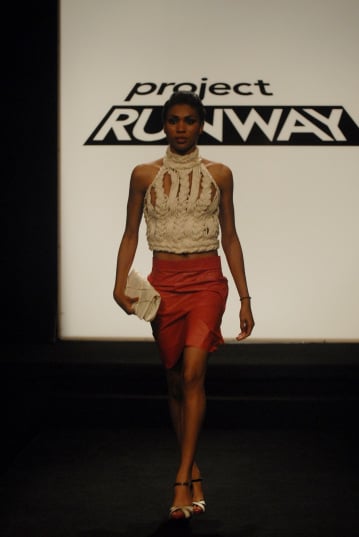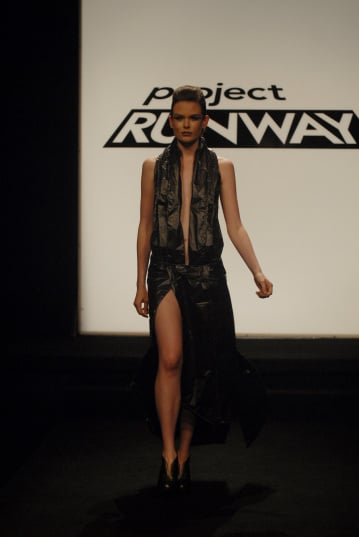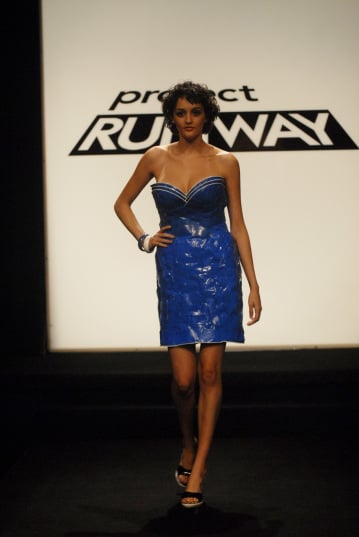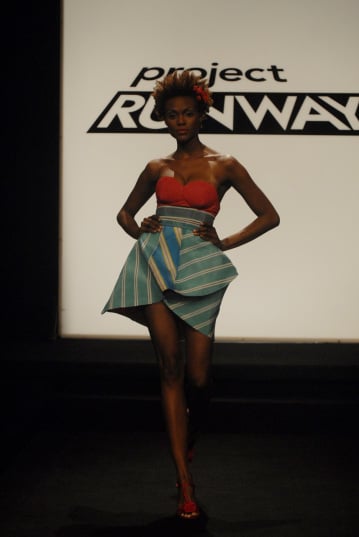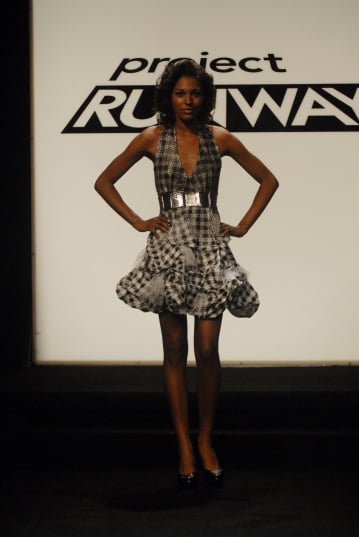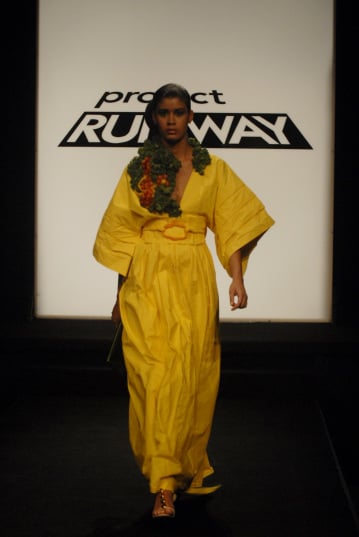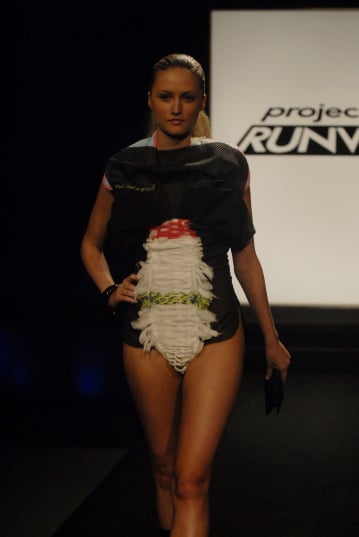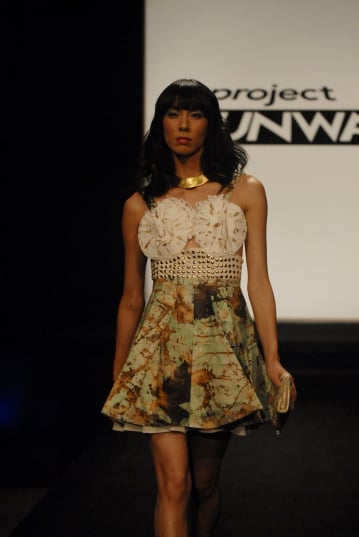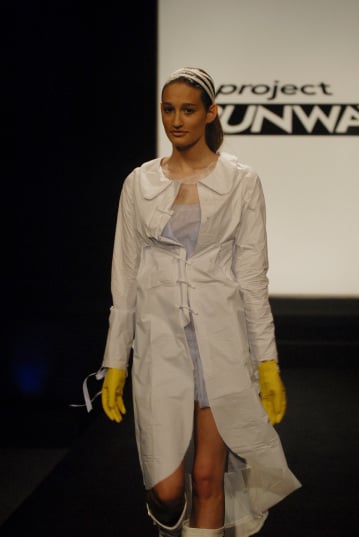 Blayne — He called his "dress" girlicious, I call it ugly. Heidi said it looked like a Playboy bunny gone grunge. Michael agreed saying that it was provocative, yes; pretty, no.
Korto — Korto's yellow Geisha dress was stunning, but it was made out of tablecloth. Luckily she added some produce trim along the neckline and was able to show a pretty outfit with a hint of innovation. Nice last minute save.
Stella — It really annoyed me that Stella was asking Tim for so much help and was ready to throw in the towel so early in the game. Use your brain, honey! In the end she created a totally typical dress made out of garbage bags and was almost eliminated for it. She's this season's Marla. Next.
Daniel — Daniel (not Franco, thank God) created a sweetheart dress made out of plastic cups. I thought that his design was the most fabulous, the most innovative, and the most wearable. He was robbed of the win. Also of note: I'm sensing a wee bit of Keith's arrogance. Keep it in check.
Kelli — I thought it was odd that Kelli seemed so above using something like tablecloth for the challenge, and then ended up using mostly vacuum-cleaner bags. Luckily she bleached and dyed the bags to look like marble, something that both Tim and the judges loved. It earned her the win.
Jerry — Unfortunately Jerry's biggest fear of losing the first round was realized, and for good reason. I thought Kenley was spot on when she said his design looked like something from America Psycho. Can't you just see Christian Bale killing someone in that coat? I wasn't sad to see him go until I re-watched the episode and saw his bio video again. He clearly had one of the strongest portfolios of all of the designers and could have been a good contender.
While I may have been a little underwhelmed with the episode as a whole, the preview makes it look like the season will pick up. I mean, how could it not with Tim saying things like "holler at your boy," and "it's a pterodactyl out of a gay Jurassic Park"?
What did you think of the fifth season premiere? Are the designers more talented than the previous seasons? And do you think the right person won, and the right person was "auffed"?
Photos courtesy of Bravo