Project Runway Rundown: Episode 13, "Finale Part One"
Project Runway Rundown: Episode 13, "Finale Part One"
There's just one week left till the end of the Project Runway road, and you know what that means: a little thing I like to call Tim Gunn's Couture Tour. This is the episode where Tim travels to each designer's home to critique his or her forthcoming collection, and from that standpoint, this season's version was about what I expected. Luckily, in true ProjRun fashion, they threw the contestants a curve ball . . . or two. The first twist occurred at the beginning of the episode. Before the designers were sent home, Heidi delivered the usual "create a collection that represents you as a designer" assignment but added an additional task: designing a wedding dress. This news made me giddy, especially when I remembered how fun the wedding challenge was in the first season. The second twist came when the designers returned to New York, where Tim asked them to produce another piece: a bridesmaid's dress that complemented both the wedding dress and the collection as a whole. Also, whether they competed at Bryant Park would depend entirely on the wedding and bridesmaid's dresses. Yikes for them; yay for us!
To find out how each of the designers entertained Tim and to see who's competing in next week's finale,
.
Tim's Couture Tour:
Korto: Tim traveled to Little Rock, AR to visit Korto and overall said a lot of positive things about her collection-in-progress. He loved her bead work and her color palette, calling it "stunning" and "sophisticated." He did, however, have reservations about a few pieces, calling one specific look "a little sexual." Side note: I believe he also said "I don't want a snatch shot." Can you even say that on cable? I wore out my rewind button trying to decipher his exact verbiage. Lastly, Tim critiqued Korto's wedding dress for looking a little more red carpet than wedding. But she still entertained him with some awesome African drumming.
Leanne: Tim went from Little Rock to Portland to visit Leanne (and meet her dorky-cute boyfriend, aw!). As with Korto, Tim had mostly accolades for Leanne. His two concerns were the color choice in one of her tops and the wedding dress not having the same "ease and flow" as the rest of her wave-inspired line. The best part of Tim's visit to Leanne, however, was seeing the two on a bike together. Priceless.
Jerell: Next up was Jerell in Los Angeles. Tim didn't have as many nice things to say about Jerell's collection. Tim thought the bust of his wedding dress needed more stability, and as for the rest, he said Jerell really needed to edit — and I couldn't have agreed more. In fact, Tim's critiques were so negative that toward the end of his trip he asked, "Can I still meet your family and friends?" Ouch.
Kenley: Finally, Tim met up with Kenley in her cute Brooklyn apartment. As with the other girls, he was very impressed — though he did question her decision to incorporate a rope at the neckline of a dress ("I just think about people hanging themselves"). But, in general, he loved her line, especially her feather and tulle wedding dress.
Now, on to the looks of the evening. . .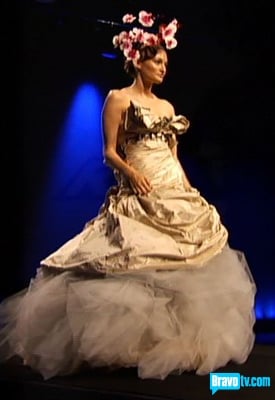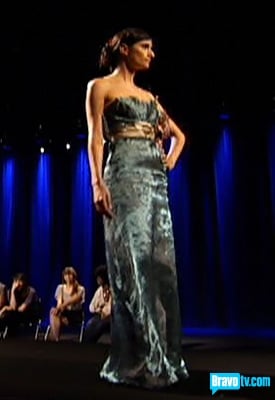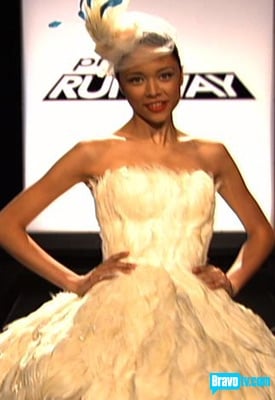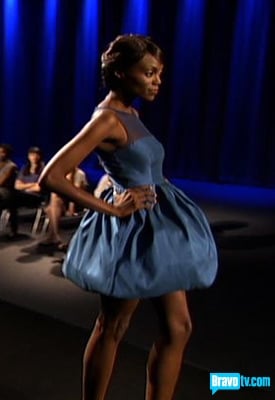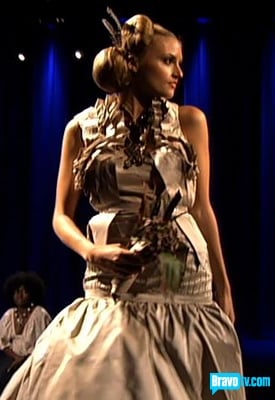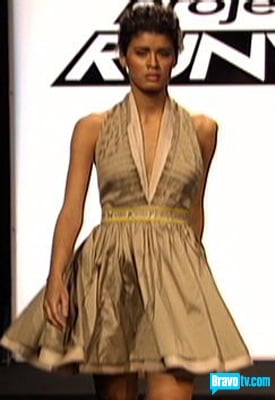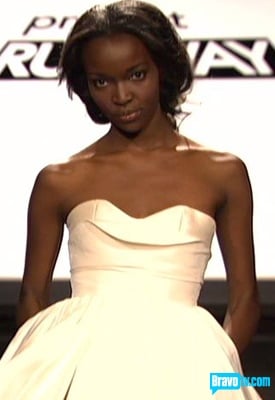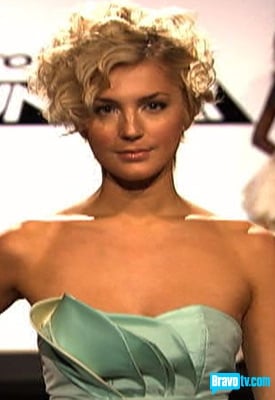 Leanne: The judges loved, loved, loved both Leanne's wedding dress — which had been totally reworked since Tim's visit — and the accompanying bridesmaid's dress. They applauded the colors and the fabric, and Nina said it was "modern and dreamy." As for what I thought — yep, Leanne nailed it. I'd wear that bridesmaid's dress in a second.
Korto: Heidi said of Korto's wedding dress, "I would not want to be the bride." And, that about sums it up. All of the judges had issues with how overworked the design was. They didn't love her bridesmaid's dress either. For me, Korto's was the worst of the bunch.
Jerell: Just like Tim predicted, the judges found Jerell's wedding dress too overworked (but sloppy at the same time). Nina even said that his tulle looked "dirty." Jerell's pieces weren't my favorite, but I thought the judges were a little harsh, especially when Nina said he hadn't put thought into his designs. What killed him, though, was that he doesn't know when to stop putting stuff on an outfit.
Kenley: Michael Kors faulted Kenley's wedding dress for looking a little too Alexander McQueen. And, well. Other than that, he loved both looks, as did Nina and Heidi. After last week's disaster, Kenley certainly proved herself with this challenge.
In the end, Jerell was eliminated. This upset me a little, since I think he should have had an advantage from winning the final "regular season" challenge and I actually liked his wedding/bridesmaid combo better than Korto's. But from the previews of Jerell's and Korto's lines, Korto's looks stronger, so I think it was the right decision in the end.
What did you guys think of last night's episode? Should Jerell have been sent home (home, in this case, being "showing at Bryant Park anyway")? Did you catch his slam at Michael Kors at the end? And are you excited for next week? The preview got me pumped for one thing in particular: Morgan!
Photos courtesy of Bravo