Project Runway Rundown: Episode 2, "Grass is Always Greener"
Project Runway Rundown: Episode 2, "Grass is Always Greener"
After last week's relatively lackluster season five premiere, boy was I pleasantly surprised with this week's episode of Project Runway. It was definitely my favorite episode of the series in a long while. Heidi started the night off by having the designers choose their models, and what a choice it was. See, after the designers were given the challenge of creating a cocktail dress using eco-friendly fabrics, they found out that their models were their clients. And while my hope that at least one of the models would be as crazy as Morgan from season one wasn't realized, the night was chock full of drama regardless. Dramatic moment number one: when the designers learned that the models would be going to Mood to pick out the fabrics for them. Sweet. Even Stella said, "Oh great, I'm going to have somebody that probably doesn't know that much about fabrics to begin with go pick me out some fabric." Big words from someone who used trash bags for her last challenge! Dramatic moment number two: when some of the designers realized that their models had chosen a lot of the same fabric, and not enough of it at that. Ruh-roh.
There's a lot more to discuss, including a gallery of all 15 looks and a very, very special guest star, so
.
Before we chat about the good, the bad, and the ugly, here are some of my favorite (and least favorite) moments . . .
Did Blayne really call Heidi Darth Vader and Darthlicious? Yep, I think so. As he explained, "because on the outside she's all shiny, all put together, but on the inside she's crazy [Darth breathing]."
Seriously, Suede talking in the third person is as annoying as Ricky's hats from last season. Must. Stop. Now. Thank you to Leanne for calling him out.
As always, I'm loving Tim's vocabulary. The juxtaposition of "caucus" and "hot mess" is awesome.
Blayne making fun of Stella was perhaps the funniest ProjRun moment ever. "My cat's leather," "I like to watch leather TV," "my husband's leather," "my kids came out of me — leather." Um, amazing!
Gratuitous Wesley underwear shot. Yes, please. Speaking of Wesley, he has confirmed that he's dating a fellow contestant.
Biggest news of the night: guest judge Natalie Portman. She's just as adorable as I would have imagined.
Now, on to the highs and lows of the looks: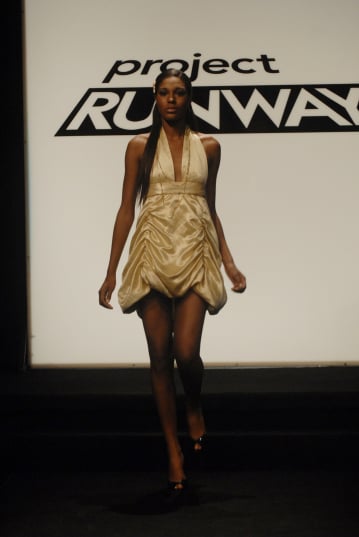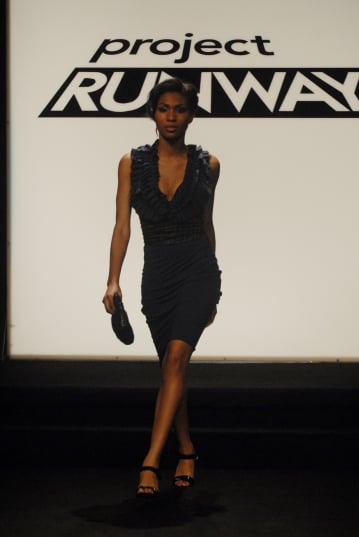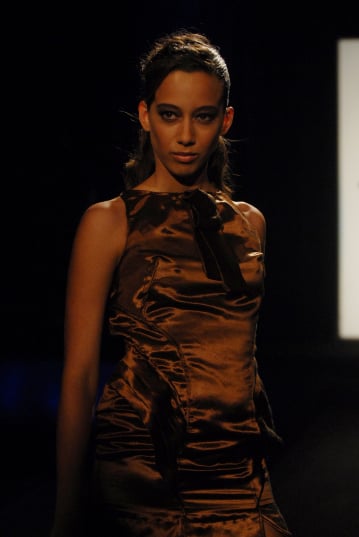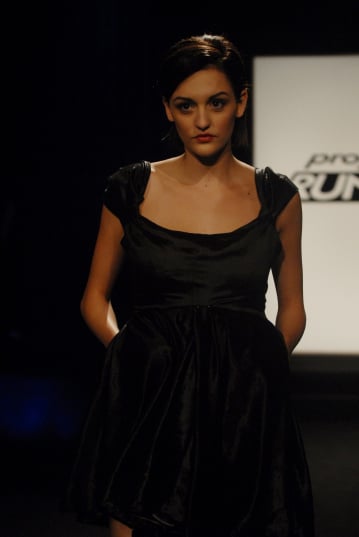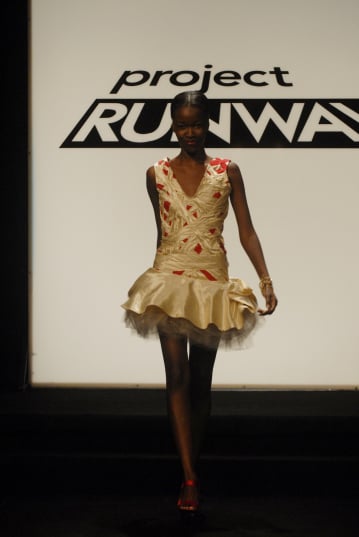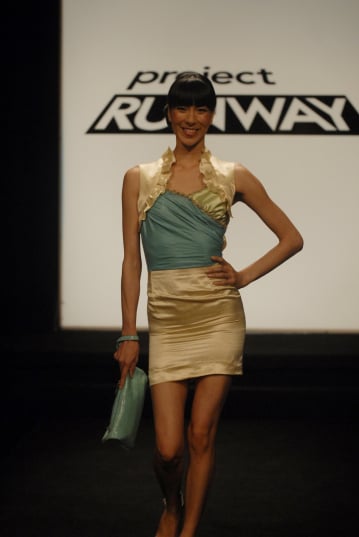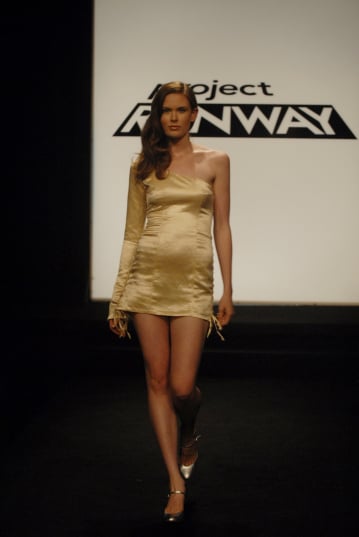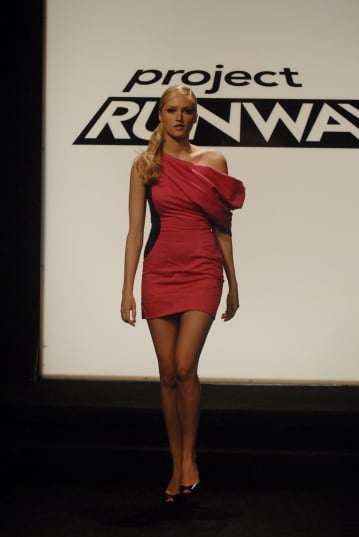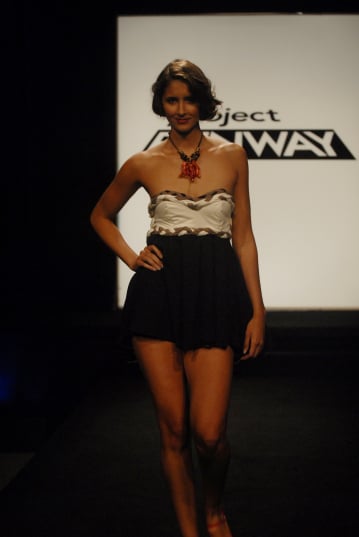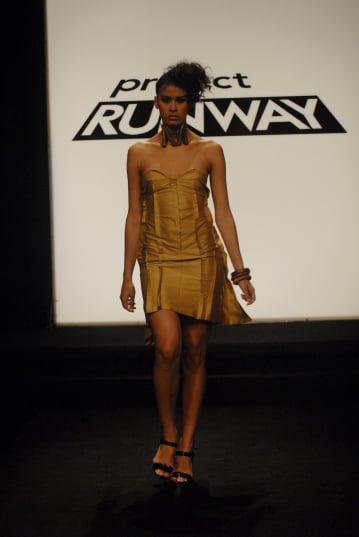 Stella — I'll give her props for keeping to her leather-y design aesthetic with her one-shouldered number. But, it's not my personal taste. I find comfort that it's not Natalie Portman's either.
Kenley — Kenley's gold sheath dress was stunning. The collar looked like something Christian Siriano would have designed and the belt-dress combo reminded me of Carrie in the Sex and the City movie. I was surprised that Kenley didn't win.
Korto — I didn't hate her short gold dress with exposed seams, but it did look inside-out. Bless Michael Kors for his comment: "Even curvy girls, they don't want fins off their butt." I can't really imagine girls of any size wanting fins off their butt. Well, except maybe this one.
Wesley — Wesley began his defense by saying that he was limited by the amount of fabric he had. No, no, no, Wesley. First you must say something good about the dress; then, as a side note, say "and all that with such little fabric." Unfortunately, his rather short and poorly executed dress was enough to send him packing. Needless to say, this was a big blow in the eye candy department for me.
Leanne — Leanne's dress was very similar in length and tone to Wesley's, but hers had bows throwing up all over it. Of the two, I definitely thought Leanne's was worse. But maybe I'm biased.
Suede — Suede's criss-cross dress with tulle skirt was the most unique of the night. It was also really pretty. Something that Natalie Portman would look great in. Even she admitted that she would wear it. So, it was no shock that Suede won. Although, personally, I was expecting them to choose a more versatile dress since it's going to be sold on Bluefly. Oh, and speaking of Bluefly, Christian Siriano's collection is now available.
What did you all think? Were you sad to see Wesley go so soon too? And did Suede deserve the win?
Photos courtesy of Bravo