Prometheus Review
Prometheus: Terrifyingly Good
I know I'm going to be suffering from nightmares because of Prometheus for months, but I'm also sure that it's one of the best movies I've seen in a while. It has horror-film imagery with a science-fiction premise: A team, led by researchers Elizabeth Shaw and Charlie Holloway (Noomi Rapace and Logan Marshall-Green), goes on a mission aboard the spacecraft Prometheus to a distant planet in 2093 to find information about the origins of humankind. Before they get into the field, though, they get the feeling that something is amiss when Meredith Vickers (Charlize Theron), the head of the corporation that's sponsoring their mission, gives them strict guidelines about what they're allowed to do. Then things get freaky: strange creatures emerge, people start acting weird, and the blood starts oozing. It's creepy, tense, and graphic, but unforgettable.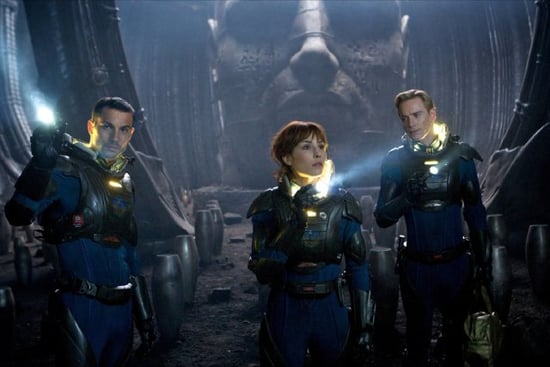 The main elements of Prometheus, like the script and the performances, come together to make it a solid movie, but it's the visual experience that makes it memorable. The film is stunning, and its special effects make you feel like you've really been transported to another planet (and for that, even 3D haters won't mind that it's in 3D). From the incredible opening scene to some of the more horrifying, "I wish I could unsee that" images, Prometheus is worth checking out for anyone who loves sci-fi — and jolting movie experiences. To find out why else I thought the movie was so good, just keep reading.
The movie is related to Ridley Scott's Alien (and I won't give away how), but you don't need to be familiar with them to appreciate the movie. The scientific side of the plot is clear and easy to follow, and even if you're not that interested in the more technical aspects of the plot, the relationships and characters are compelling.
The most interesting of the group is David, an android who serves the crew of Prometheus. He's engineered to behave and look like a perfect human specimen, and he's portrayed by Michael Fassbender in a bit of flawless casting. His poised composure makes it clear that he's robotic, yet there are times when he's surprisingly sympathetic. On the other end of the spectrum is Vickers, who's colder than David, but like him, she also keeps you guessing. There are other great performances by the supporting cast, particularly the charismatic Marshall-Green and Idris Elba as the irreverent, scene-stealing captain.
Make no mistake, this movie is hard to watch, and not just because of the more gruesome scenes. There are situations that will have you squirming in your seat while you're anticipating their rather horrific outcomes. And Ridley Scott outdoes himself; generally, not only does the thing you're dreading happen, but Scott also takes it one unbelievable step further. But while the ickiness might be tough on your stomach, it's hard not to appreciate the creativity. Just don't be surprised if you can't sleep afterward.
Photos courtesy of 20th Century Fox