Quotes From Edie Falco in the Emmys Press Room 2010-08-29 20:57:30
Emmy Press Room: Edie Falco Still Thinks She's Not Funny
Edie Falco mentioned in her speech for best lead actress in a comedy series that she doesn't think she's funny, and she echoed that sentiment when she made her way back to the press room. Here are more highlights from the Nurse Jackie star: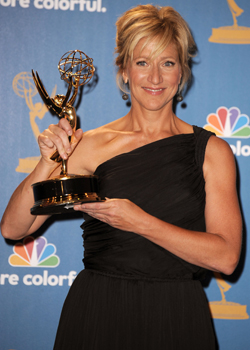 Do you really think you aren't funny?
Edie Falco: As soon as someone calls you funny, you're not funny anymore. It becomes something you're aware of. I never really thought of myself as funny, no.
Will Jackie ever see the light?
EF: I don't know. I have no idea. And the writers keep wanting to give me hints but frankly I don't want to know until we start shooting it. It could go either way.
How is it different to win for Nurse Jackie than when you won for The Sopranos?
EF: I won in a drama for a show that was funny but it was pretty serious the stuff that we dealt with. This comedy world is completely new terrain for me. Tina Fey? It's utterly ridiculous. I'm just happy to be here.
Were you really shocked even though you were the favorite?
EF: Who said I was a favorite to win? I stay out of all that stuff. All I know is that I was nominated in a comedy series and I laughed my head off because I thought that was funny. The women I was up against are hysterically funny, talented comediennes. I'm not playing coy here, I was actually shocked.
How will you celebrate?
EF: I hadn't planned on celebrating. I had planned on going home and ordering room service, so I have no idea what I'm going to do.
Which character are you more like: Carmela Soprano or Jackie?
EF: I think I kind of fall right about in the middle of the two of them. There are things that are similar to both. But I do kind of like the low maintenance aspect of my present character. In that way we are similar.