Quotes From Sandra Bullock and Ryan Reynolds at the 2010 People's Choice Awards 2010-01-06 19:39:30
PCA Press Room: Ryan Reynolds and Sandra Bullock Get Cute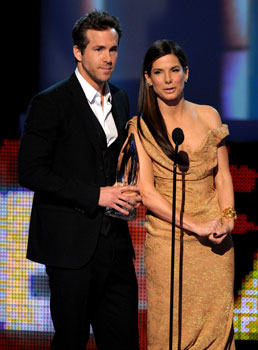 Now that the red carpet is all wrapped, I'm coming atcha live from the press room at the People's Choice Awards! Ryan Reynolds and Sandra Bullock just made an appearance, fresh off their big win for The Proposal. Sandra was very humble about the award show circuit, saying,
"I'm not a veteran of award shows, so I just try to get out of the house on time. I try to not fall, I try to sound eloquent, which we didn't because we had another thing planned. I am so not together. I'm just happy to be here and we'll see what happens tomorrow."
The award show buzz for The Blind Side doesn't seem to be slowing, so Sandra should be an old pro by the time the Oscars roll around. Meanwhile, Ryan quipped about who designed his outfit and revealed that he watched a marathon of The Twilight Zone over the holidays.
Stay tuned for more tidbits and highlights from all the winners, and don't forget to vote on Fab and Bella's polls, plus check out all the coverage on Pop!