Quvenzhane Wallis Interview at Oscars Luncheon
Quvenzhané Wallis Says She's "Happy and Excited" About Her Nomination at Oscars Luncheon
Beasts of the Southern Wild's Quvenzhané Wallis isn't just one of this year's most distinctive Oscar nominees because she's the youngest actress to be nominated for best actress. She also has what's probably the most difficult name to pronounce. When the 9-year-old came to the Oscars Luncheon today, she was asked to address her name, and she helpfully instructed the room on how to pronounce it ("Qua-ven-jan-ay"), along with how she feels about the honor.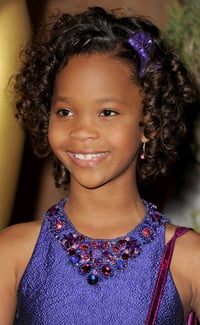 On what her friends call her for short: "Quee-O."
On being aware that she's making history as the youngest best actress Oscar nominee: "Yes. I'm happy and excited, but like, it's something you never think will happen at your age."
On bringing her iPhone to take pictures with the star-studded room of nominees: "My mom has it."