RZA From the Wu-Tang Clan Lost Screen Test From Parks and Recreation
Buzz-Worthy Video: Parks and Recreation's Wu-Tang Link
Parks and Recreation has been earning a revamped reputation as being one of the funniest shows on TV (and one of my faves of 2009), and this uproarious clip exposing the show's connection to rap group Wu-Tang Clan is just furthering that momentum. In the clip below, Roots drummer ?uestlove introduces a "lost screen test" with the RZA auditioning for the role of Leslie Knope — before it went to Amy Poehler.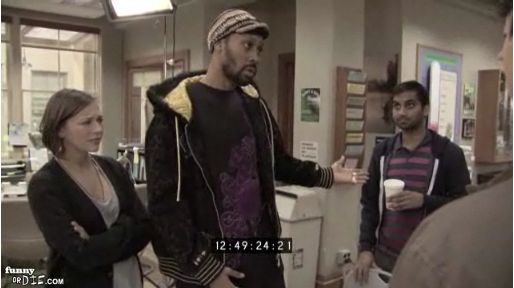 Highly NSFW language, but highly hilarious, particularly when RZA suggests he and Ann kiss. Not to mention his swaggering confidence throughout that he nailed the part.
If you love the show (which returns from the Winter hiatus this week, FYI), check it out when you
.