Rachel Bilson's Hart of Dixie Review
Pilot Scoop: Hart of Dixie
Rachel Bilson hasn't starred on a TV series since her breakout role on The O.C., but she's heading back to the small screen tonight for the premiere of The CW's Hart of Dixie. This time around, she plays Zoe Hart, a confident doctor with dreams of being a cardiothoracic surgeon. Her plans change when she's informed that she's in need of a serious bedside-manner adjustment before she can get a promotion. Zoe then heads to the deep South where a job as a general practitioner awaits her. Naturally, her NYC attitude isn't exactly welcomed with Southern comfort when she arrives.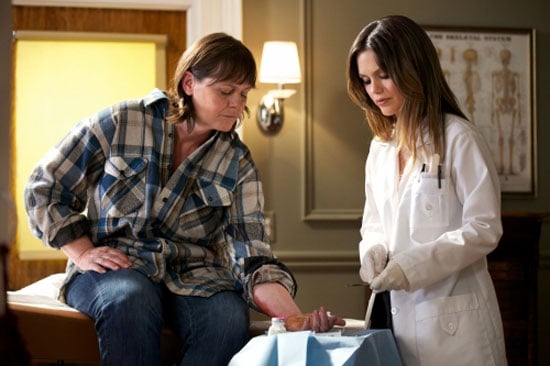 Where it works: It's good to see Bilson back on TV, and though I didn't immediately take to Zoe, I was definitely warming up to her by the end of the episode. Plus, fish-out-of water shows come with plenty of entertaining fodder, from Zoe's criticism of her new community to jokes about having the rare female doctor in town. The pilot also sets up plenty of drama for the rest of the season, from relationships to family secrets.
Where it doesn't: Bilson has no problem playing a beautiful girl with a side of sass, but Zoe's personality makes it hard to take her seriously as a doctor. Zoe is supposed to have graduated at the top of her class at medical school, but she often comes across as a valley girl. The pilot also goes a bit overboard with the Southern theme: all the country music and bad accents grow tiresome after 40 minutes.
You might like this show if: You'd happily watch an O.C. spinoff where Summer becomes a doctor and moves to Alabama (sadly, without Seth).
When it's on: Mondays on The CW at 9 p.m.
To watch a preview of Hart of Dixie, just
.
Photos courtesy of The CW